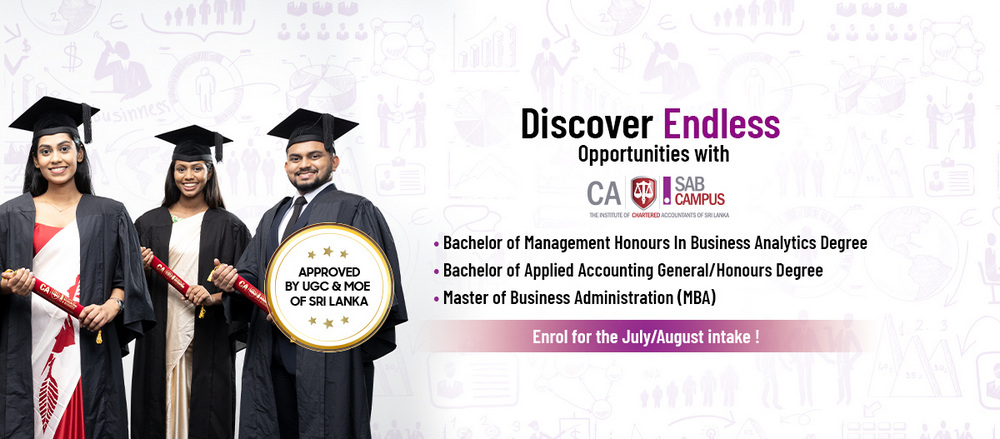 Expand the Boundaries of Quality Education with the world-class



BACHELOR OF SCIENCE IN APPLIED ACCOUNTING

GENERAL/HONOURS DEGREE (BSc. In Applied Accounting)
offered by
SAB Campus of CA Sri Lanka
Recognized by the
University Grants Commission (UGC) and
Approved by the
the Ministry of Education (MOE) of Sri Lanka
The Bachelor of Sciene in Applied Accounting General/Honours Degree programme offered by the SAB Campus of the Institute of Chartered Accountants of Sri Lanka (CA Sri Lanka) envisions to create unique employable graduates with the required skills, competencies, and industry knowledge to fulfill a successful accounting career. Upon successful completion of the degree programme, the students will gain extensive knowledge and the required skills in accounting practices.
This is the only degree programme in the country which enables students to gain specialized knowledge in the field of 'Applied Accounting'.
The Bachelor of Science in Applied Accounting General / Honours Degree programme is designed with two exit points.
· Bachelor of Science in Applied Accounting General Degree – (3 Years)
· Bachelor of Science in Applied Accounting Honours Degree -  (4 Years)
KEY FEATURES OF THE BACHELOR OF SCIENCE APPLIED ACCOUNTING DEGREE
Recognized by the University Grants Commission of Sri Lanka and

Approved by the Ministry of Education of Sri Lanka (MOE)

Industry exposure through Two - year mandatory internship and placement at reputed organizations from third year onwards.

Global recognition from international professional accounting bodies and universities for credit transfers.

On completion of the Applied Accounting Degree, graduates are eligible to obtain exemptions from:
· CA Qualification: Complete only the strategic level of the CA programme and become a CHARTERED ACCOUNTANT
· CIMA – Complete only 3 case studies and receive CIMA CGMA Membership
· ACCA - Complete only 5 subjects from ACCA and obtain ACCA Membership
INVESTMENT
Bachelor of Science in Applied Accounting General Degree – (3 Years) Rs 930,000
Bachelor of Science in Applied Accounting Honours Degree - (4 Years) Rs 1,040,000
Flexible Payment plans available
ENTRY REQUIREMENT
Minimum 3 simple passes at GCE Advanced Level Examination or EDEXCEL/Cambridge Examination
(Registration is available for students with pending A/L results with condition)
Credit pass for GCE Ordinary Level Mathematics
WEEKDAY/ WEEKEND LECTURES CONDUCTED
MEDIUM OF INSTRUCTION
English
Gazette Notification of the BSc. Applied Accounting Degree
Gazette Notification of Bachelor of Applied Accounting Degree
Curriculum - BSc. in Applied Accounting
BSc. (Applied Accounting) General/Special Degree programme structure 2013 - 2020
EOI - Education division SAB CAMPUS final
Student Application Form for CA Exemptions
Credit Exemptions from Bachelor of Science in Applied Accounting Degree to CA Qualificaton
Foreign Students
Annual cost: USD 2000
Annual Registration Fee USD 150