The Gavel Club CA Sri Lanka held its Installation Ceremony of Club Officers for 2018/2019 recently at the Institute's member's forum with Ms. Amali Udayangani, CC being appointed as the President of the Club. For the first time in the gavel club history, the club conducted the installation ceremony separately with the blessings of ICASL Toastmasters club.
The Chief Guest of the ceremony was the President of CA Sri Lanka, Mr. Jagath Perera, while the keynote speaker was President of Toastmasters international DTM Balraj Arunasalam.
It was a grand event with inspiring speeches from renowned toastmasters to a large gathering which consisted of Distinguished Toastmasters, prominent toastmasters, Gaveliers and distinguished guests. Another special moment of the evening was Club issuing its first ever newsletter.
Incoming president of CA Sri Lanka Students Gavel Club, Gv. Amali Udayangani, CC said that "We are ready to grow this year in line with the theme of 'Together towards Tomorrow. Yesterday is not ours to recover, but tomorrow is ours to win or lose'."
The club has its educational meetings on every second and fourth Wednesdays of each month at the Institute premises. The CA Sri Lanka Students Gavel Club is open to each and every single student who follows Charted Accountancy and the BSc. Degree in Applied Accounting conducted at the institute. The club currently follows two tracks, communication and leadership track. Members of the club can work their way to the top of communication track whilst they can achieve up to
advanced leader bronze on leadership track. The club encourages students to join and seize this cost-free opportunity.
The following officers for 2018/2019 were installed by DTM Chathura K Sooriyarachchi
| | |
| --- | --- |
| President | Amali Udayangani, CC |
| Vice President Education | Thomas Dilushan |
| Vice President Membership | Pradeepa Sandaruwan, CC |
| Vice President Public Relations | Praveen Rathnasinghe |
| Secretary | Menaka Hangarapitiya |
| Treasurer | Maryam Mohideen |
| Sergeant at arms | Sachi Wijesinghe |
The Masters of Ceremony were Gv. Dumindra Rupasinghe, Gv. Jayaranga Amarasinghe, Gv. Diyani Perera, Gv. Kasun Chathuranga, Gv. Rihansa Subashini and Gv. Sahmi Saly.
Caption: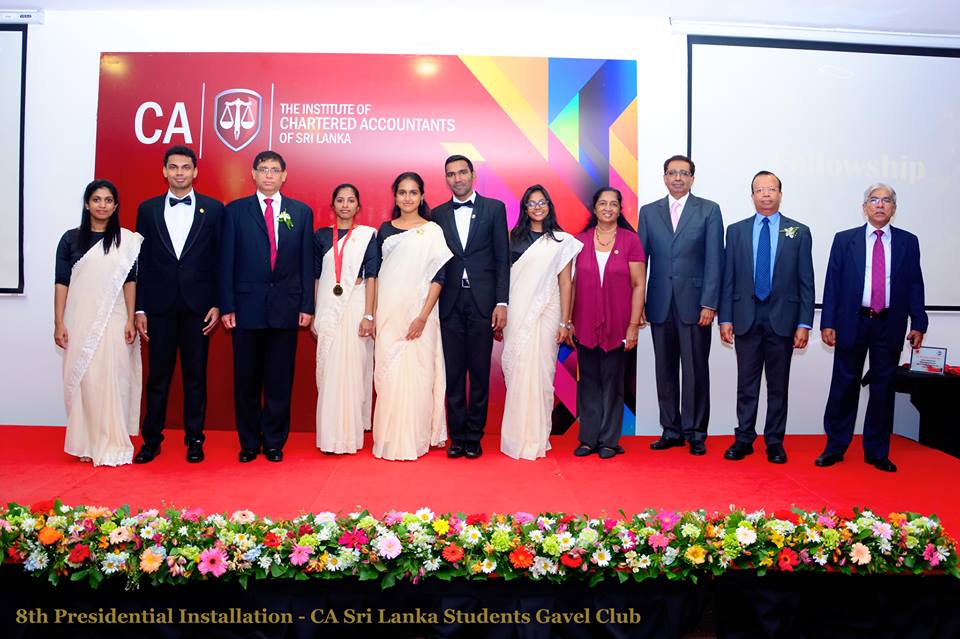 Office bearers of CA Sri Lanka Students Gavel Club for the year 2018/19 with President of CA Sri Lanka Mr. Jagath Perera, Club Counselors Mr.Razik.A Mohomad, Mr Sherliy A Peris, Gavel Club Coordinator for Sri Lanka DTM Shiranthie Salgodo and  Director Finance of Ceylinco Life Insurance, Mr.Palitha Jayawardana.