The Institute of Chartered Accountants of Sri Lanka (CA Sri Lanka) is committed to accountancy capacity building in the region. Recently, CA Sri Lanka partnered with the Institute of Chartered Accountants in England and Wales (ICAEW) to host a 5-day roundtable in Colombo with ICAEW and CPA Afghanistan on strengthening accounting in Afghanistan.
The roundtable included ICAEW director in international capacity building, Dr. Mark Campbell with CA Sri Lanka's President Mr. Jagath Perera, Vice President Mr. Manil Jayesinghe and CEO Mr. Aruna Alwis. The agenda focused on knowledge sharing and mentoring in how to build a strong national accountancy profession.
"We are delighted that CA Sri Lanka was the first choice of partner for this initiative. It reflects our commitment to regional accountancy" Mr. Jagath Perera said. "The combination of our technical expertise and Colombo infrastructure provide an environment that is highly conducive to mentoring and capacity building," he added.
The week of assistance covered governance of professional accountancy bodies, professional qualifications and qualification pathways, membership services, licensing of practitioners and firms and accountancy standard setting. The round table also focused on aspects of the accounting practices adopted in Sri Lanka.
CA Sri Lanka was among the first professional accounting bodies in South Asia to adopt the International Financial Reporting Standards (IFRS) in 2012. Since then, CA Sri Lanka has taken the lead in the region to help develop and enhance the profession across the region. In fulfilling this endeavor, CA Sri Lanka facilitated the setting up of a professional accountancy body in Bhutan, and also extended support to the Auditor General of Maldives to help develop and strengthen the accounting and auditing profession in Maldives.
CAPTION: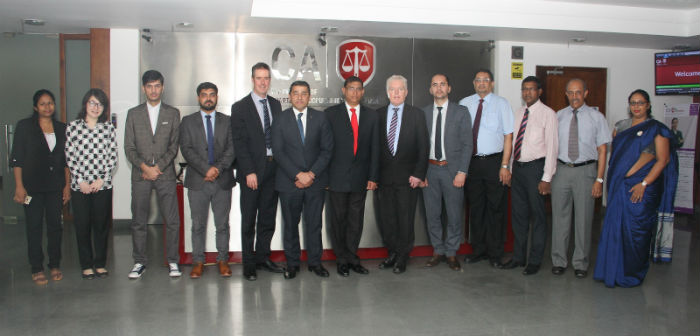 CPA Afghanistan's Ms. Sameera Sarwar, Mr. Sullamal Rahmatullah, Mr. Bilal Hashimi, Mr. Zia ul Haq Sarwari, MOF Afghanistan's Mr. Sanaullah Rahimi, pose for a picture with ICAEW's Dr. Mark Campbell, Mr. John Hooper and CA Sri Lanka's Mr. Jagath Perera, Mr. Manil Jayesinghe, Mr. Aruna Alwis and Mr. Lakshman Athukorala during the 5 day round table.