The first regional round of the 2017 CA Sri Lanka Business Plan competition got underway recently with Visakha Vidyalaya beating five leading Colombo schools to win the Colombo District - A regional round.
The Colombo District - A regional round brought together Visakha Vidyalaya, Ananda College, Devi Balika Vidyalaya, St. Thomas' College, Bishop's College and Musaeus College, where teams from each school pitched a business plan to a panel of judges comprising of academics and high profile professionals.
Ananda College was adjudged First Runner Up in the Colombo District - A round, while Devi Balika Vidyalaya was the Second Runner Up. Each winning team from the regional round will take part in the Grand Finale in March this year where the champions will receiving a unique opportunity of flying to Australia to take part in the Case Competition organized by the QUT Business School of the Queensland University of Technology in Brisbane, Australia in May.
CA Sri Lanka President Mr. Lasantha Wickremasinghe said that the business plan competition is an important headway for students to apply into practice, the knowledge gained at the classroom level, while also helping them showcase their presentation skills, while also taking advantage to think out of the box and pitch a unique business plan.
"The business plan competition will no doubt help you get better at what you do, and will also bring out the visionary in you. So here is one opportunity to change the world, and help it make a better place. Let this competition be a stepping stone to inspire you, and let it be the beginning of change," he added.
The partnership between CA Sri Lanka and the QUT Business School was enabled by the Sri Lanka and Australia Chamber of Commerce (SLACC) in an effort to bring Sri Lankan and Australian professional bodies together.
The CA Sri Lanka Business Plan competition has been broken into seven regional rounds; Colombo - A, Colombo - B, Gampaha, Kandy, Kurunegala, Galle/Matara and Jaffna and the regional rounds will conclude in early March. The grand finale will be held in Colombo on March 28, 2017. The competition brings together 60 teams from across the island with each school team comprising of five students who are sitting for the G.C.E. Advanced Level Examination in 2017 August - Commerce Stream (English Medium), and or students who are sitting for the G.C.E. Advanced Level Examination in 2018 August - Commerce Stream (English Medium)
CA Sri Lanka Chief Executive Officer Mr. Aruna Alwis said that the competition was an excellent platform to nurture innovation among the country's student population, specially in the current context where there is an increasing need for entrepreneurs to take the lead in Sri Lanka's economic revival. "Entrepreneurs are known to transform and reshape economies and industries throughout the world, entrepreneurs can also be the lifeblood of economic growth in our country, therefore this competition is important as it can create new visionary entrepreneurs to lead our forward journey," he said.
Captions: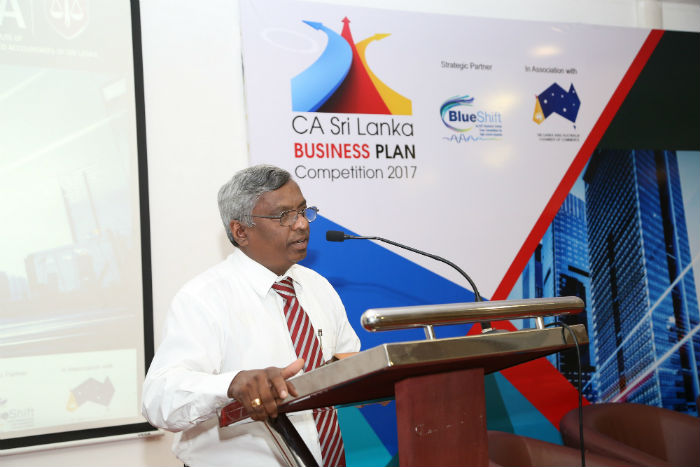 CA Sri Lanka President Mr. Lasantha Wickremasinghe addressing the students.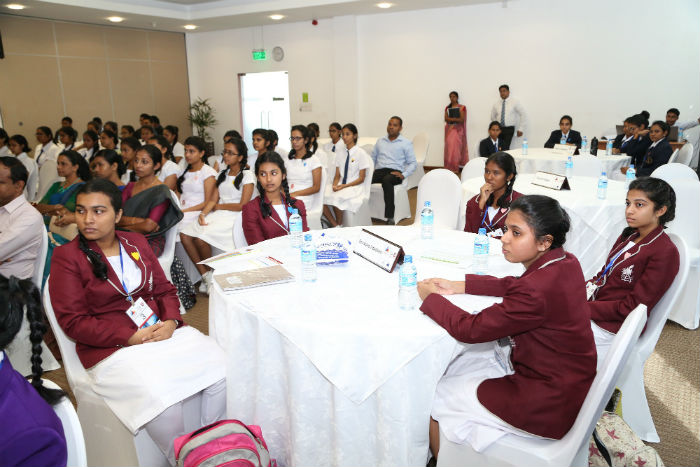 Students taking part at the CA Sri Lanka Business School - Colombo District A regional round.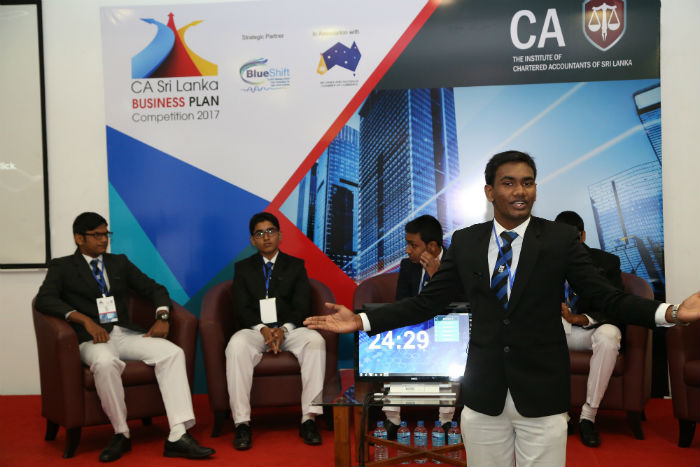 A student from St. Thomas College presenting his Business Plan to the judges.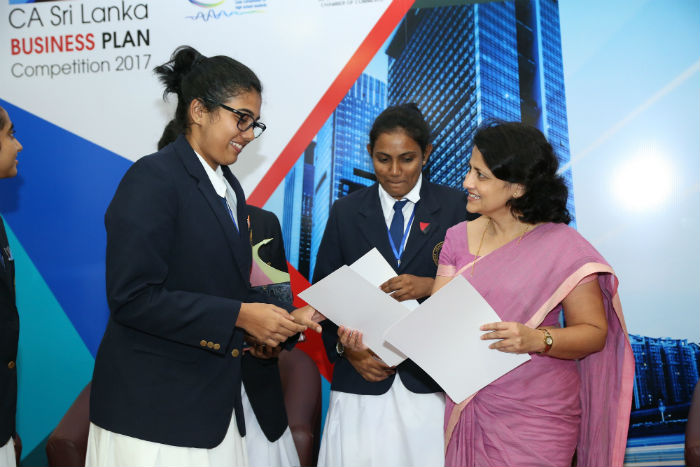 Chairperson of the CA Sri Lanka Urban Schools & Non Commerce Stream Student Promotions Committee Ms. Coralie Pietersz presenting a certificate to a student of Visakha Vidyalaya.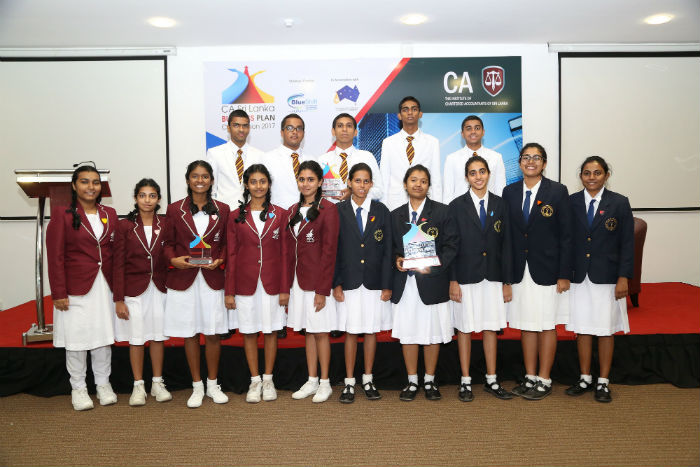 The winning team Visakha Vidyalaya, posing for a group picture with first runner Up Ananda College, and second runner Up Devika Balika Vidyalaya.