A total of 53 students graduated recently as Chartered Tax Advisors at the 2017 Tax Convocation organization by the Institute of Chartered Accountants of Sri Lanka (CA Sri Lanka), which was held under patronage of the Commissioner General of Inland Revenue Ms. Kalyani Dahanayake.
Addressing the graduates, Ms. Dahanayake said that tax advisors play an important role in influencing tax compliance. As a result the organisation has explicitly solicited tax advisors to become partners in the enterprise and it has proactively engaged in interactions with the tax profession to develop working relationships to further this goal.
"The conventional set of international tax rules have become increasingly inadequate to cope with the challenges on taxation arising from rapid globalization and other new developments such as proliferation of e-commerce. The need to tackle the situation is more imminent at a time when many governments are struggling with budget deficits and working hard to make ends meet," she said.
She also emphasized upon the importance of creating a climate of transparency, good governance as well as maintaining professional ethics, which according to her were areas that require great improvement in the current context.
CA Sri Lanka President Mr. Lasantha Wickremasinghe addressing the graduates highlighted that as new members belonging to a prestigious and highly respected profession, it is the duty of each and every one of them to ensure the respect and standing of the profession continues.
"As a tax professional, you have an important obligation and in the midst of increasing challenges and competition, it is your bounded duty to remain professional and ethical at all times, no matter how complex a situation is. When you carry out your professional duties respectfully, it will not only bring great reputation to the tax profession, but also to this institute, and to our country," Mr. Wickremasinghe said.
The CTA programme from CA Sri Lanka is one of the most recognized qualifications for professionals who aspire to specialize in this area. The course by the CA School of Taxation was developed to meet the growing demand in a local and global context, and consists of a contemporary yet localized curriculum with a global outlook.
Meanwhile, Governor of the Central Bank Dr. Indrajit Coomaraswamy also commended the CA Sri Lanka School of Taxation for training and providing the required knowledge and expertise to professionals and tax practitioners. "This is a very important task in this entire process. You play an important role in providing clients or taxpayers with advice on adhering to their tax obligations, as established by legal frameworks in the country. The training and guidance that is acquired from the School of Taxation clearly plays an important role in capacity building in this area," he told the 21st Annual Tax Oration organised by the institute.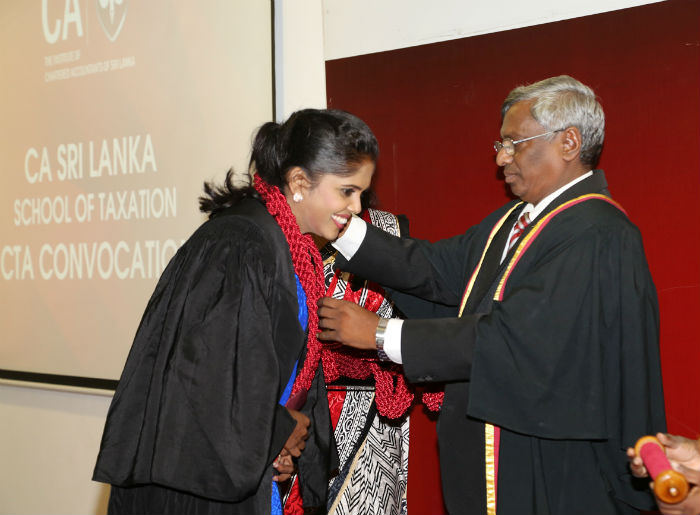 Meanwhile Chairman of the CA Sri Lanka Taxation School Mr. Duminda Hulangamuwa said that the CA School of Taxation has made vast strides in an impressively short period of time, and is today among the most recognized Tax Schools in the country offering a multitude of locally and globally recognized qualifications for the progression of our discerning professionals.
"Let me remind you that your graduation today should not mean that this is the end to your professional development. You must continue your professional development with CA Sri Lanka by taking part in the many professional development programs of the Institute and interact with your colleagues and thereby strengthen your networking opportunities which will enhance your learning experience further," he added.