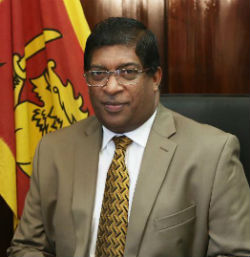 Amidst mounting expectations for a people friendly budget, the new government's national budget for 2016 will come under focus at the annual budget seminar organized by the Institute of Chartered Accountants of Sri Lanka (CA Sri Lanka).
The seminar will feature Minister of Finance Mr. Ravi Karunanayake, who will deliver the keynote speech highlighting the rationale of the new government's budget for 2016.
The seminar which will be held on Tuesday, 24th November 2015 is open to professionals, students as well as members of the public. The budget highlights at the seminar will be delivered by Ms. Shamila Jayasekara, the Alternate Chairperson of the CA Sri Lanka Faculty of Taxation.
The seminar will also be further boosted with a panel session comprising a cross section of experts, including  Mr. Arjuna Herath, President of CA Sri Lanka, Mr. Rajendra Thyagarajah, Vice President of the Ceylon Chamber of Commerce, Mr. S R Attygalle , Deputy Secretary to the Treasury, Ms. Kalyani Dahanayake, Commissioner General of Inland Revenue and Mr. N R Gajendran, Past Chairman of the Faculty of Taxation, while Mr. Duminda Hulangamuwa, Chairman of the CA Sri Lanka Faculty of Taxation will moderate the session.