The BSc. Degree in Applied Accounting offered by the country's foremost professional organisation, the Institute of Chartered Accountants of Sri Lanka (CA Sri Lanka) comes with a host of unlimited opportunities for the undergraduates who are following the programme, including a transfer opportunity to one of Australia's leading universities, La Trobe, which has its main campus in Melbourne, and a multi-campus university in Victoria.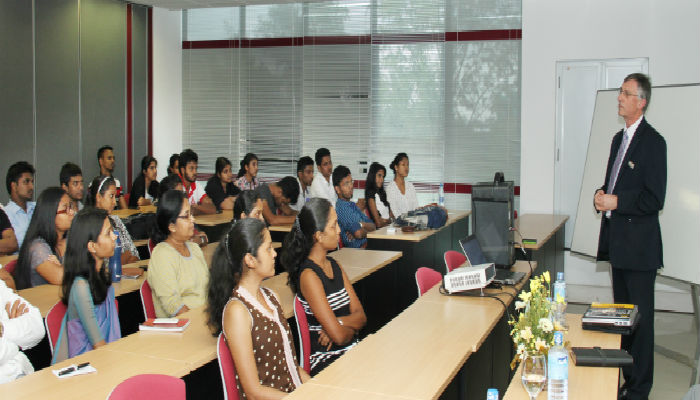 Mr. Marc Olynyk, Senior Lecturer in Finance of the La Trobe University who was in Colombo recently met with undergraduates of the CA Sri Lanka Degree Programme where he explained the numerous benefits of the transfer programme that Sri Lankan students can enjoy, while also the various opportunities they can gain when they transfer to La Trobe.

Mr. Olynyk emphasized that the accounting and finance professionals belong to a profession that were always in demand both in Australia and across the world.

La Trobe boasts of a student population of more than 32,000 Including 9,000 international students from over 100 countries.

He also disclosed that La Trobe offers two scholarships schemes for undergraduate students as well as postgraduates. Accordingly the La Trobe's Academic Excellence Scholarships (AES) cover tuition fees for high-achieving international students accepted into their undergraduate and postgraduate coursework programmes. La Trobe focuses on three key priorities which are to ensure excellence in; research, teaching and business engagement. A wide range of its programmes are linked to industry through accreditation.

Mr. Olynyk also emphasized that La Trobe takes exceptional efforts to ensure that all students who study at the university possess a strong focus on making students 'work-ready and future-ready.'

"We also provide flexibility in student learning," he said. Elaborating further, Mr. Olynyk said that the university was moving away from traditional lecture style method teaching and was adopting to new and more non-conventional teaching methods which gives students the necessary flexibility," he said.

La Trobe's accounting subjects are ranked in the top 7% of the world, according to the QS World University Rankings by Subject 2015.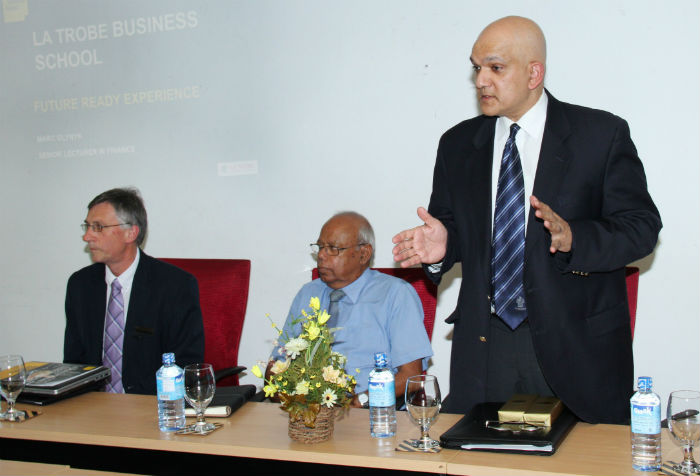 The September/October 2015 intake for the CA Sri Lanka degree programme is currently on. The degree is offered at full time and part time basis. Students who have completed the local Advanced Level streams or Cambridge and Edexcel London Advanced Level examinations can register for the BSc. Applied Accounting programme, while students who sat for the 2015 A/L batch can also enroll with pending A/L results.

In November 2014, CA Sri Lanka signed an agreement with La Trobe University which allows students following CA Sri Lanka's BSc. Degree in Applied Accounting the opportunity to transfer into La Trobe University's Accounting Degree programme.

The CA Sri Lanka degree programme which has been approved by the University Grants Commission aims to create employable graduates with the required skills, competencies and industry knowledge to fulfil a successful accounting career. The degree programme has also attracted foreign students who chose the degree based on its contemporary curriculum.