Teaching colleges for SE1 batch 09
SEI - Communication & People Skills at Executive Level Application
Commencement of Classes for Communication & People Skills (Executive Level) Under New CA Sri Lanka Curriculum
The classes for Communication & People Skills(SE1) at Executive Level, under the new CA Sri Lanka Curriculum will be started from 2015 onwards.
In its endeavor to facilitate students with enhanced learning opportunities, CA Sri Lanka has taken a noteworthy initiative in developing the Communication Skills of all students from the Executive Level onwards, who are following the CA Sri Lanka globally recognized Chartered Accountancy qualification.
In this context, CA Sri Lanka has selected the Teaching Colleges which have been approved by CA Sri Lanka with a reduced class size of 35 students to offer a user-friendly learning environment.
All CA Sri Lanka students at Executive Level are kindly requested to pay attention to the following guidelines if they are joining the SE1 study programme at the Executive Level.
Compulsory SE1 Module
Communication & People Skills (SE1) is a compulsory Module for all students at Executive Level to complete before they proceed to Business Level. All students at this level are advised to complete SE1 Module first, before the commencement of the Knowledge Modules or along with the Knowledge Modules.
All students should successfully complete the SE1 Module before obtaining the Certified Business Accountant (CBA) Certificate.
The duration of the study programme is 80 hours over a period of 4 - 5 months, 4 hours per week, focusing on all 4 language skills; reading, writing, listening & speaking; which will be tested at the Final Exam.
Teaching Colleges for SE1 Module
For the convenience of all students, a large number of Teaching Colleges approved by CA Sri Lanka are available in each province who will conduct the SE1 Module.
You may visit https://www.casrilanka.com/casl/index.php?option=com_content&view=article&id=112&Itemid=157&lang=en or the CA Information Centres for more information on Teaching Colleges approved to conduct SE1 Module.
Registration for SE1 Module
It is compulsory for all students to register with CA Sri Lanka before enrolling for the SE1 Module study programme. Registration for the course is only through online. Students can register by accessing the student portal of the CA website. The classes will be conducted by the respective Teaching Colleges according to their time tables.
Students have the flexibility to select a particular Teaching College based on their locations and convenience. However registration at Teaching Colleges will be accepted on a first-come first-served basis.
Placement Test
Students who would like to know their competency level or those who are having a higher competency level and wish to get an exemption from the SE1 study programme may sit the Placement Test. However it is compulsory for them to sit the Final Exam of SE1 even if they get an exemption from the study programme.
Payments for SE1 Module
All payments with regard to the SE1 Module should be payable to CA Sri Lanka via online or to any Bank of Ceylon branch island-wide or to the Cashier at CA Sri Lanka.
Payment Structure:
| | | | |
| --- | --- | --- | --- |
| Registration fee | : | Rs. 1,000/= | To CA Sri Lanka |
| Course fee | : | Rs. 5,500/= (Payable in 2 instalments) | To the teaching college |
| | | 1st Installment | Rs 3,000/= |
| | | 2nd Installment | Rs 2,500/= |
For more information contact:
Multimedia English Language Centre
The Institute of Chartered Accountants of Sri Lanka,
30A, Malalasekera Mawatha, Colombo 7.
Tel:+94 112 352 075  Fax: +94 112 352 060
Email:  This e-mail address is being protected from spambots. You need JavaScript enabled to view it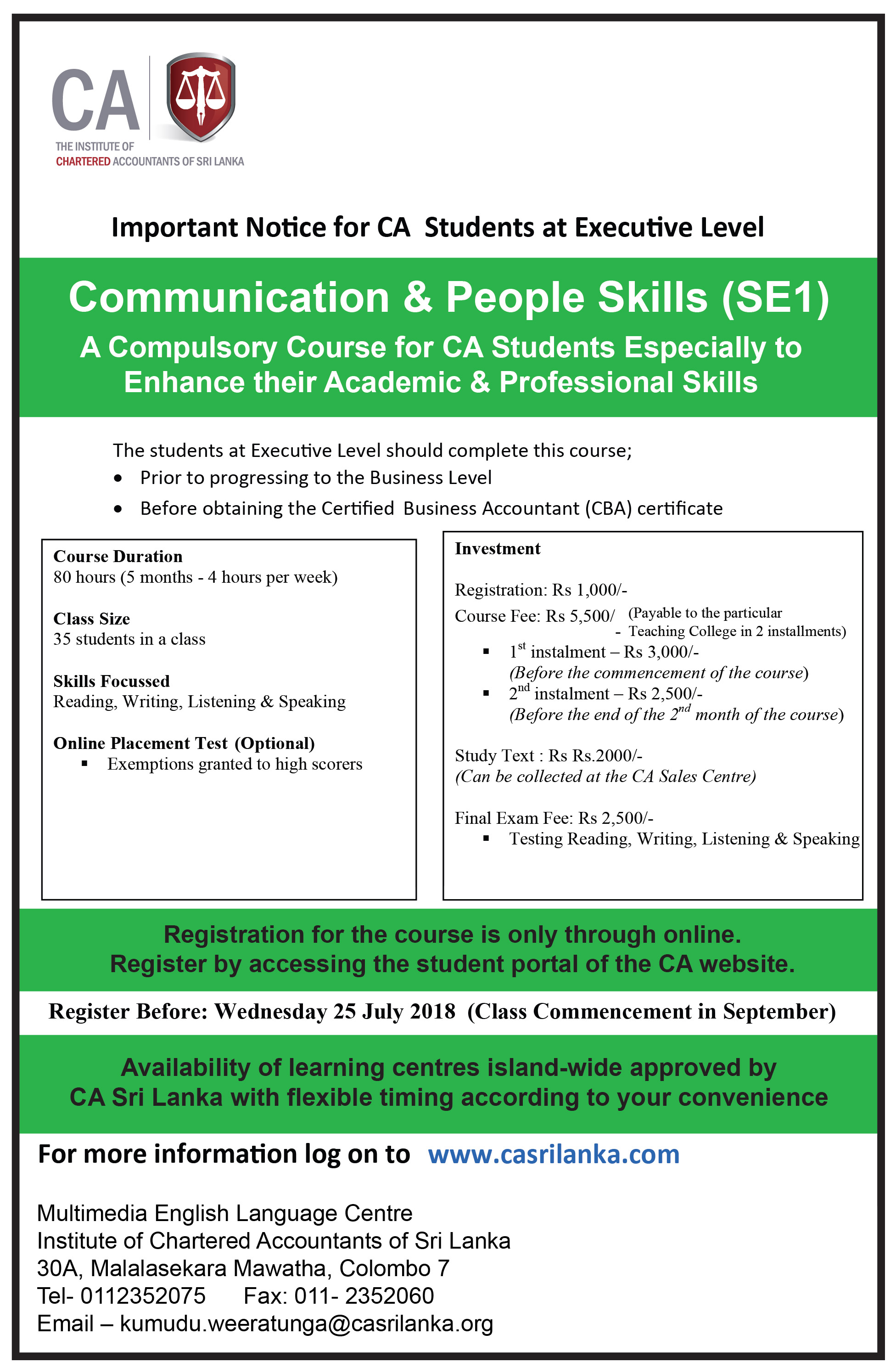 The Cambridge Business English Certificate Higher (BEC-Higher) is an internationally recognized qualification and exams are conducted across the globe throughout the year. There are three exams in the Cambridge English: Business Certificates (BEC) suite of exams. Each one is targeted at a different level and Cambridge English: Business Higher is the most advanced of these exams. The content for each exam is based on everyday work and business tasks and designed to develop students 'Business English Skills.
For CA students, Cambridge English: Business Higher is targeted at Level B2 the third highest level on the CEFR scale. Level B2 is required in demanding professional settings, and achieving a certificate at this level proves that a candidate has reached an advanced level of English.
Course registrations
Once a batch is finalized it will be advertised on the CA Sri Lanka website & informed to the students via e-mails/Text messages. Applications will be called 4 weeks prior to each course. Registration is purely online and students can log in to their CA Student portal to apply for a particular batch. Students will be registered for each course on first-come-first-served basis. They can choose a preferred time slot but in the event of less registration for a particular slot the class will be cancelled and the students will be directed to select another available time slot. At the time of registration the students are expected to make the Registration payment of the programme.
Course procedure

A placement test will be conducted for those who are interested and exemptions will be granted based on the performance of the students.
Then the students will be invited to an orientation programme which will give them a comprehensive idea of the course and its final assessment. The lectures would commence subsequently and all classroom sessions are exam oriented and developed in such way to enhance language skills. Once a student makes the course fee payment they are able to borrow the study materials from the library and they are permitted to keep the materials till the end of the course only. Maintaining 80% attendance is compulsory for all the students.
When should this be completed?
Prior to the completion of the subject, Corporate Strategy & Contemporary Issues (KC5)
Before obtaining the qualification; Certified Senior Business Accountant (CSBA)
After successful completion of SE-I.
Course duration:
3 months (50 Hours) - 4 hours per Week
Investment:
Registration Fee- Rs.1500/-
Course Fee- Rs.8500/-
Exam fee- Rs.8800/-
For more information contact:
Multimedia English Language Centre
The Institute of Chartered Accountants of Sri Lanka
30A, Malalasekara Mawatha, Colombo 7
Tel: +94 112 352 075  Fax: +94 112 352 060
Email: This e-mail address is being protected from spambots. You need JavaScript enabled to view it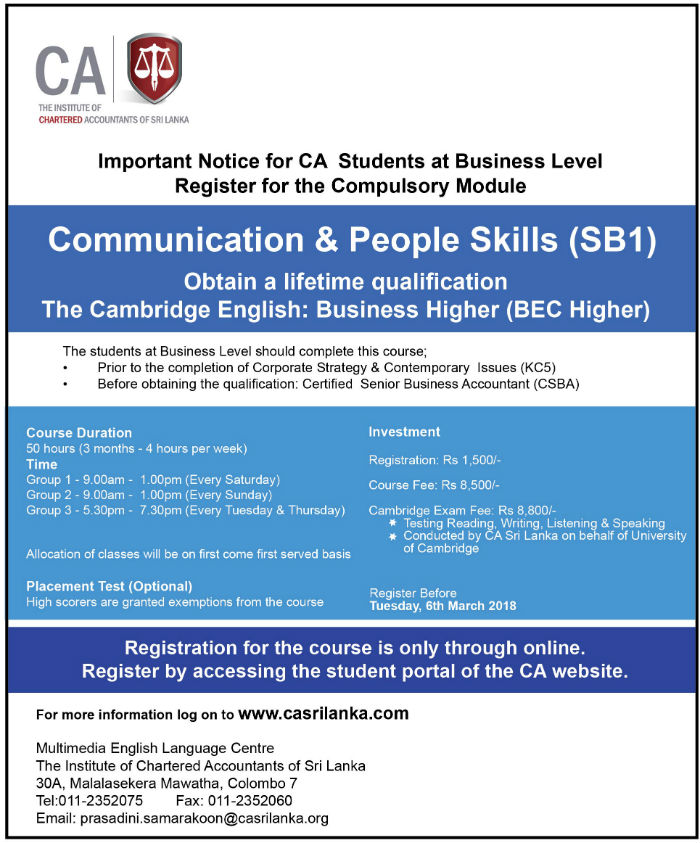 Corporate Level - Communication and People Skills (SC1)
This programme has been developed mainly to enhance the soft skills which will be of great importance to work as Chartered Accountants in the corporate world. The skills that have been mainly focused are public speaking skills, negotiation & conflict resolution skills, personal branding & business etiquette.
This programme is conducted in groups of 30 students. Once the programme dates are confirmed students may select the convenient programme for them. However registration for a particular batch will be on first-come-first-served basis. This Programme consists of 4 sessions such as Public Speaking Skills Training, Public Speaking Skills Assessment, Negotiation & Conflict Resolution Skills & Personal Branding & Business Etiquette. It is mandatory to attend all 4 session to successfully complete the SCI programme.
When should this be completed?
Prior to the completion of the subject, Corporate Strategy & Contemporary Issues (KC5)
Before obtaining the qualification; Certified Senior Business Accountant (CSBA).
After successful completion of SBI.
Course duration:   20 hours
Course fee:            Rs. 5500/=

Normally fees cannot be carried forward from one batch to another. Please note that in order to successfully complete the programme it is mandatory to attend all four sessions for the given time period. Therefore the students have to pay a  penalty of Rs. 1000/-  for being absent without a valid reason/ prior notice.

For more information contact:
Multimedia English Language Centre
The Institute of Chartered Accountants of Sri Lanka
30A, Malalasekera Mawatha, Colombo 7
Tel:+94 112 352 075  Fax: +94 112 352 060
Email: This e-mail address is being protected from spambots. You need JavaScript enabled to view it