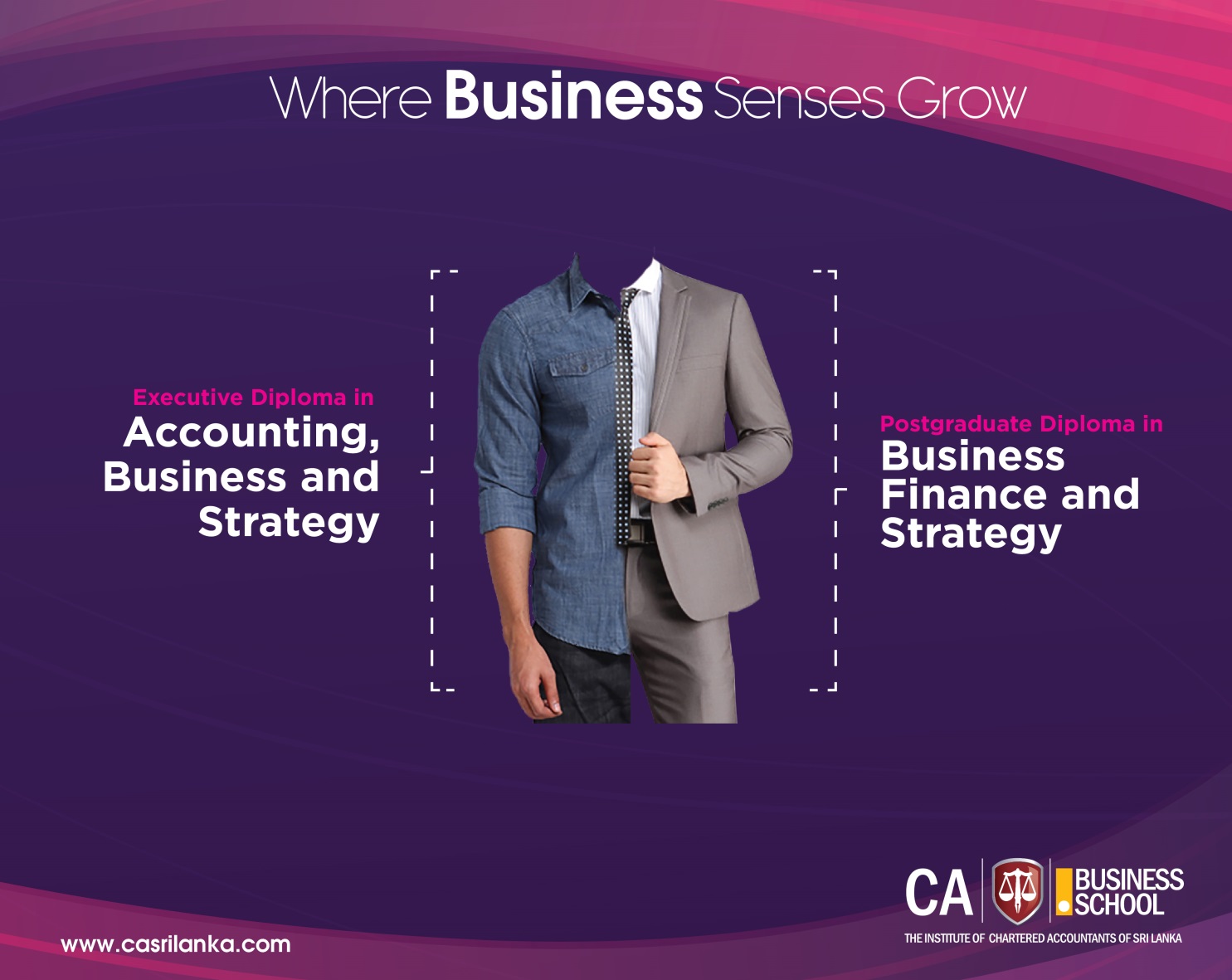 General Information
The Institute of Chartered Accountants of Sri Lanka is the Statutory Body responsible for the regulation and control of the Profession of Accountants and Auditors in Sri Lanka and also for the conduct of the qualifying Examinations, Study Courses and Training for the membership of the Institute.

Objective
Those who complete the program will be updated with the theoretical and practical aspects of Business and Accounting disciplines which are relevant to today's commercial world up to the entry level of Postgraduate Diploma in Business Finance and Strategy of CA Sri Lanka.

Target Group
Proficiency in English, enabling the student to undertake a university level diploma programme; AND
Required computer literacy, IT skills, and knowledge of organisational systems; AND
Part qualifications in Intermediate/Licentiate/CAB examinations of the Institute of Chartered Accountants of Sri Lanka; OR
Part qualifications in CIMA, ACCA, CIM or any equivalent examinations; OR
AAT (Sri Lanka), AAT (UK), HNDA, ICSA (UK), IFA (UK), IBSL, IB (UK); OR
Any other professional qualification accepted by the CA Sri Lanka; AND
Two-years' entrepreneurial experience with an accounting and finance background acceptable to CA Sri Lanka.
Course Outline (Duration one year)
Semester 1:
ABS 100 Academic Writing and Presentations
EDABS 101 - Financial Accounting and Reporting
EDABS 102 - Managing and Organisation
EDABS 103 - Economics for Business

Semester 2:
ABS 200 - Business Case Analysis
EDABS 201 - Management Accounting and Controls
EDABS 202 - Corporate Financial Management
EDABS 203 - Economics of Strategy
Semester 3:
ABS 300 - Quantitative Methods for Business Studies
EDABS 301 - Law in Business
EDABS 302 - Taxation in Business
EDABS 303 - Business Project Report

Course completion requirements
In order to be eligible for the award of Diploma, candidates should:
have 80% of attendance at Lectures
Methodology
Lecturing, Presentations, Group discussions, Assignments.

Advancements
Those who successfully complete this course will be eligible to follow Postgraduate Diploma in Business Finance and Strategy (PGDBFS).
Course Fee
Rs.125,000 payable in 3 installments at the commencement of each semester, Easy payment scheme available.
Registration Fee: Rs. 8,000
Enrollments: Please submit
Completed  Application form
2 passport size photographs
Letter from the employer
Certified copies of certificates and transcripts