Capital market professionals representing some of the country's leading accounting, banking, finance and insurance companies were given a thorough education on valuation techniques including global best practices in relative valuation at the Amba – CA Sri Lanka Valuation Boot Camp which was held for the third successful time recently.

Organized by the Institute of Chartered Accountants of Sri Lanka (CA Sri Lanka) together with Amba Research Training, the two day workshop was conducted by an expert panel of trainers from Amba who gave participants insights on various valuation techniques including global best practices in relative valuation and absolute valuation including techniques used in sum-of-the-parts (SoTP) valuation and private equity valuation.

Capital market professionals representing top companies such as Union Assurance PLC, First Guardian Equities (Pvt) Ltd, Hemas Holdings PLC, Employees' Trust Fund Board, HNB Assurance PLC, Commercial Bank of Ceylon PLC, SJMS Associates, KPMG , BDO Partners, Mobitel (Pvt) Ltd, CT Capital (Pvt) Limited, DB Stockbrokers (Private) Ltd, and  NDB Wealth Management Limited were present during the two day workshop.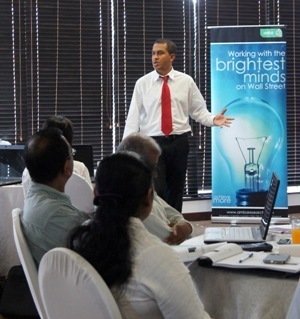 Participants consisting of research analysts, research managers, and heads of research, investment analysts, portfolio managers, treasury analysts, corporate finance analysts and corporate finance managers were given the opportunity to deepen their understanding through coursework using real-life case studies, while also gaining insight into the application of valuation theory in a Sri Lankan context, through the use of three local case studies.

The participants were trained by Amba's Country Head and Director Chanakya Dissanayake, Senior Vice President and Global Head of Training & Knowledge Management Aruna Perera, Vice President and Head of Training Sarah Yusuf, Vice President Asanka Herath, Vice President Mirshad Muzamil and Associate Vice President Nalaka Ranasinghe.

CA Sri Lanka president, Mr. Sujeewa Rajapakse addressing the participants disclosed that the recently concluded event was the third such successful event conducted jointly by Amba and CA Sri Lanka, which have been sold out events in the past.

"Although we take pride in being the national body of accountants, we do not restrict our programmes only to conventional accounting education, but have gone a step further and given our members and professionals from even the non-accounting fields, world class programmes for their professional development," he noted.