As businesses become more immune to fraud risks amidst intense competition, the Institute of Chartered Accountants of Sri Lanka (CA Sri Lanka) together with the Institute of Internal Auditors (IIA) recently educated professionals from the accounting and finance sectors on how to combat possible frauds their organizations face.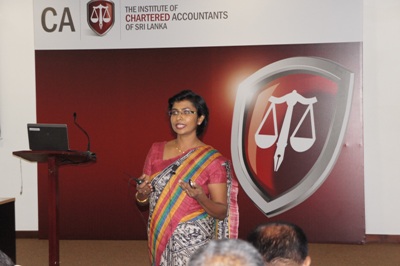 At a highly edifying workshop titled 'Are you exposed or immune to fraud', Ms. Natalie Warawita,  Head of Group Risk & Control at MAS Holdings (Private) Limited, educated participants on global fraud trends, while also clarifying the roles and responsibilities related to fraud risk management.

Ms. Warawita also gave participants including finance professionals, audit professionals and risk management professionals an overview on how to use data analytics for fraud detection.

The workshop saw a large participation with professionals from leading organisations such as A Baur& Co (Pvt) Ltd, SJMS Associates, Rhino Roofing Products Ltd, PricewaterhouseCoopers, Softlogic Finance PLC, Urban Development Authority, The Lanka Hospital Corporation PLC, The Capital Maharaja Organization, People's Bank, Pan Asia Banking Corporation PLC, MAS Holdings Group, MAS Active (Pvt) Ltd, Kanesalingam & Co, Commercial Bank of Ceylon PLC, Central Finance Company PLC, Mercantile Investments & Finance PLC, Melstacorp Limited, Hemas Hospital (Pvt) Ltd, Haqque Martin & Co, Douglas & Sons (Pvt) Ltd, Janashakthi Insurance PLC, KAL Rupasinghe & Co, Kahawatte Plantations PLC, Diesel & Motor Engineering PLC, Swiss Biogenics Ltd, Elsteel (Private) limited, Ceylon Petroleum Storage Terminals Ltd, Ceylon Biscuits Ltd and Asiri Surgical Hospital PLC participating in the workshop.

Ms. Warawita is a Fellow of CA Sri Lanka and an Associate of the Chartered Institute of Management Accountants [UK]. She has over 20 years' experience in financial Services industries.

This was the first joint event organized between CA Sri Lanka and the Institute of Internal Auditors.