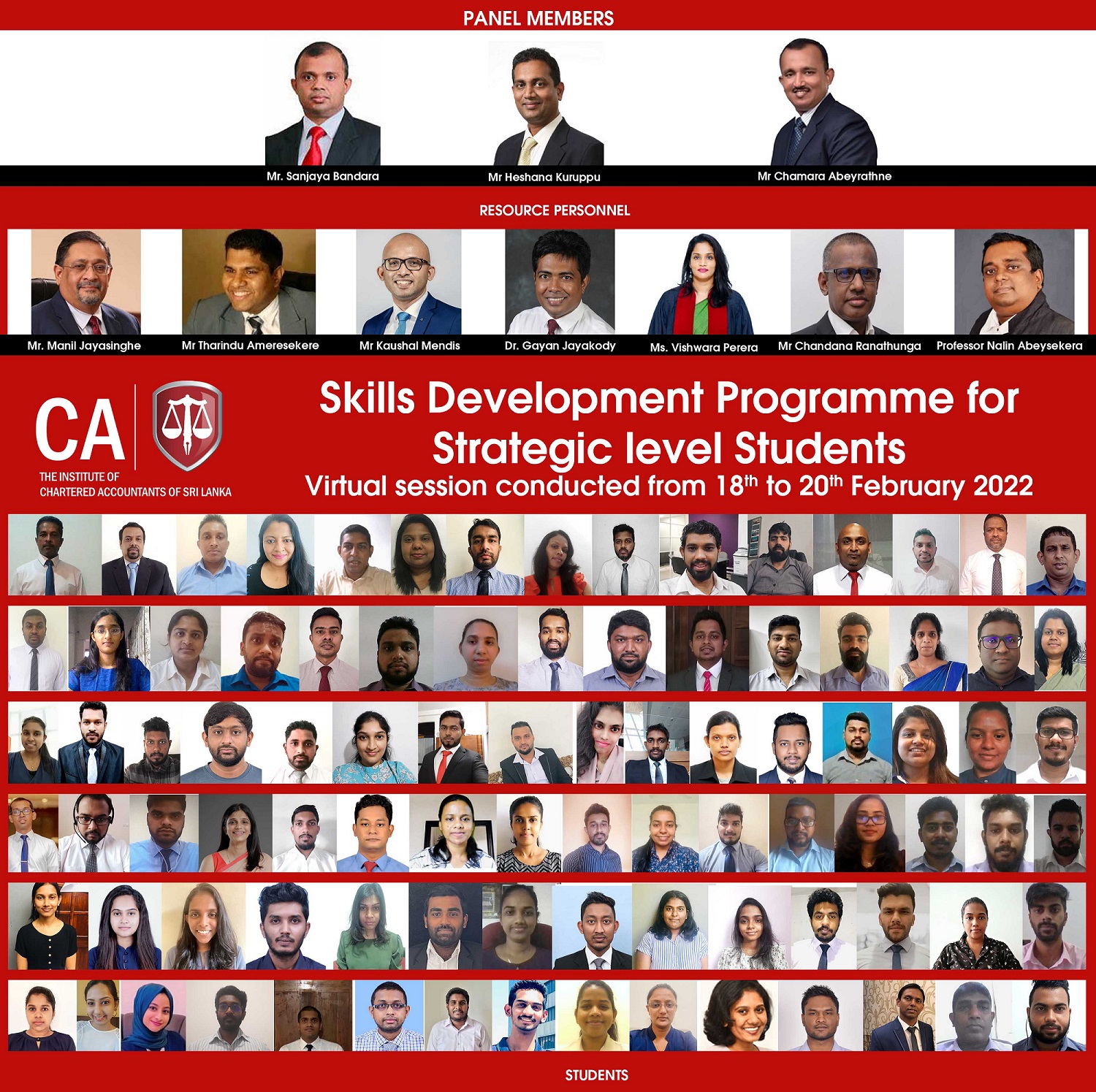 With the role of the accounting professional continuing to evolve, coupled with demands for an accountant to become the chief value officer, from the conventional chief financial officer's role, the Institute of Chartered Accountants of Sri Lanka (CA Sri Lanka) continued to impart core skills on students who are aspiring Chartered Accountants.
During a three-day workshop on soft skill development, an exciting line up of experts educated Strategic Level Students of CA Sri Lanka on a range of critical skills spanning strategy formulation, self-branding, emotional intelligence to upskilling young CAs to face digital transformation as well as developing critical skills in leadership, negotiation, communication, and entrepreneurship.
The programme has become an essential pillar in ensuring Chartered Accountants are upskilled on key competencies required in today's job market, and to ensure their continuing demand in the corporate world.
The virtual programme was held under the patronage of Mr. Sanjaya Bandara, President of CA Sri Lanka, Mr. Heshana Kuruppu, Vice President of CA Sri Lanka and Mr. Chamara Abeyrathne, Chairman of the Student Training & Skills Development Committee.
Mr. Manil Jayesinghe, Past President CA Sri Lanka, and County Managing Partner for EY Sri Lanka spoke on the practical aspects of strategy formulation for today's businesses, while Mr. Tharindu Amarasekera, Lecturer of the Postgraduate Institute of Management of the University of Sri Jayewardenepura educated the students on self-branding and how to position young Chartered Accountants in the corporate world.
Mr. Kaushal Mendis, Director - Human Resources & Administration of Gamma Pizzakraft Lanka Pvt. Ltd elucidated on how young CAs can improve their emotional intelligence and human resource skills, while Dr. Gayan Jayakody, Senior Lecturer of the Postgraduate Institute of Management University of Sri Jayewardenepura spoke on upskilling young Chartered Accountants to face digital transformation in business processes.
Ms. Vishwara Perera, Senior Lecturer of the University of Sri Jayewardenepura touched on the importance of improving communication & negotiation skills as well as storytelling, while Mr. Chandana Ranatunga, Chief Executive Officer of Latex Green (Pvt.) Limited educated the participants on developing strategic leadership & managerial skills. Prof. Nalin Abeysekera, Head - Department of Marketing of the Faculty of Management Studies of the Open University of Sri Lanka spoke on the importance of developing entrepreneurship skills for aspiring Chartered Accountants. The intense three days programme came to an end following an insightful speech by Mr. Bandara who spoke on how Chartered Accountants add value to the profession.