A 71.20% pass rate was recorded at the KC5 - Corporate Strategy & Contemporary Issues Case Study exam of the Institute of Chartered Accountants of Sri Lanka (CA Sri Lanka) conducted in December 2018.

Accordingly, a total of 131 students excelled at the exam, with several of the students who passed the case study comprising of students between the ages of 23 and 24 and representing some of Colombo's leading schools including Ananda College, St. Paul's Girls School Milagiriya as well St. Joseph's Boy's College.

A unique feature of the CA Sri Lanka Chartered Accountants programme is that students have the option of following studies together with practical training and fast track their way to sit for the case study exam.

The CA Sri Lanka qualification has also been benchmarked by the United Kingdom's National Academic Recognition Information Centre (NARIC) as a qualification comparable to a Master's Degree standard. The two early exit routes of the programme: the Certified Senior Business Accountant (CSBA) qualification has been compared to a Bachelor Degree standard, while the Certified Business Accountant (CBA) qualification has been compared to a Certificate of Higher Education standard.

CA Sri Lanka President Mr. Jagath Perera said that the high pass rate obtained at the December 2018 exam is a similar trend that has been continuing. "This high pass mark is also testament to the fact that with commitment, students can always excel at the exam and go onto become CAs," he said.

Mr. Perera said that the CA Sri Lanka Chartered Accountants programme is a combination of studies, skills and training. "The studies together with practical training is our unique selling proposition to strengthen the professional qualification," he said.

Mr. Perera noted that CA Sri Lanka has always focused on quality and not quantity and this is perhaps why there has always been a perception among some that the exams are difficult. "But, the results of the KC5 December 2018 exam is clear that when a student sets his or her mind to achieve something great, he or she will always be successful. Ultimately, it is about commitment, you can't expect success without dedication," he added.

Meanwhile, Vice President of CA Sri Lanka Mr. Manil Jayesinghe said that the practical training aspect of the CA Programme is what sets Chartered Accountants apart from those who only obtain an academic qualification. "We can go to a university and get a degree but the training is the most distinctive feature for us, as qualifications alone aren't sufficient," he said.

He noted that unlike an academic qualification, a professional qualification is always a step ahead as it focuses on two vital aspects, which is to ensure that the professional is competent and has the necessary skills to carry out the job role. "When an accounting professional follows a professional qualification, he or she not only gains the knowledge but also understands how to use the knowledge to solve problems," he said.

CA Sri Lanka enjoys a multitude of agreements with some of the world's leading accounting bodies, to help CA Sri Lanka members enhance their standing across the globe. At present, CA Sri Lanka has agreements with Institute of Chartered Accountants in England and Wales (ICAEW), CPA Australia and Chartered Accountants Australia & New Zealand (CA ANZ).

The Institute is a member of the International Federation of Accountants (IFAC), Confederation of Asian and Pacific Accountants (CAPA), South Asian Federation of Accountants (SAFA) and an associate member of Chartered Accountants Worldwide.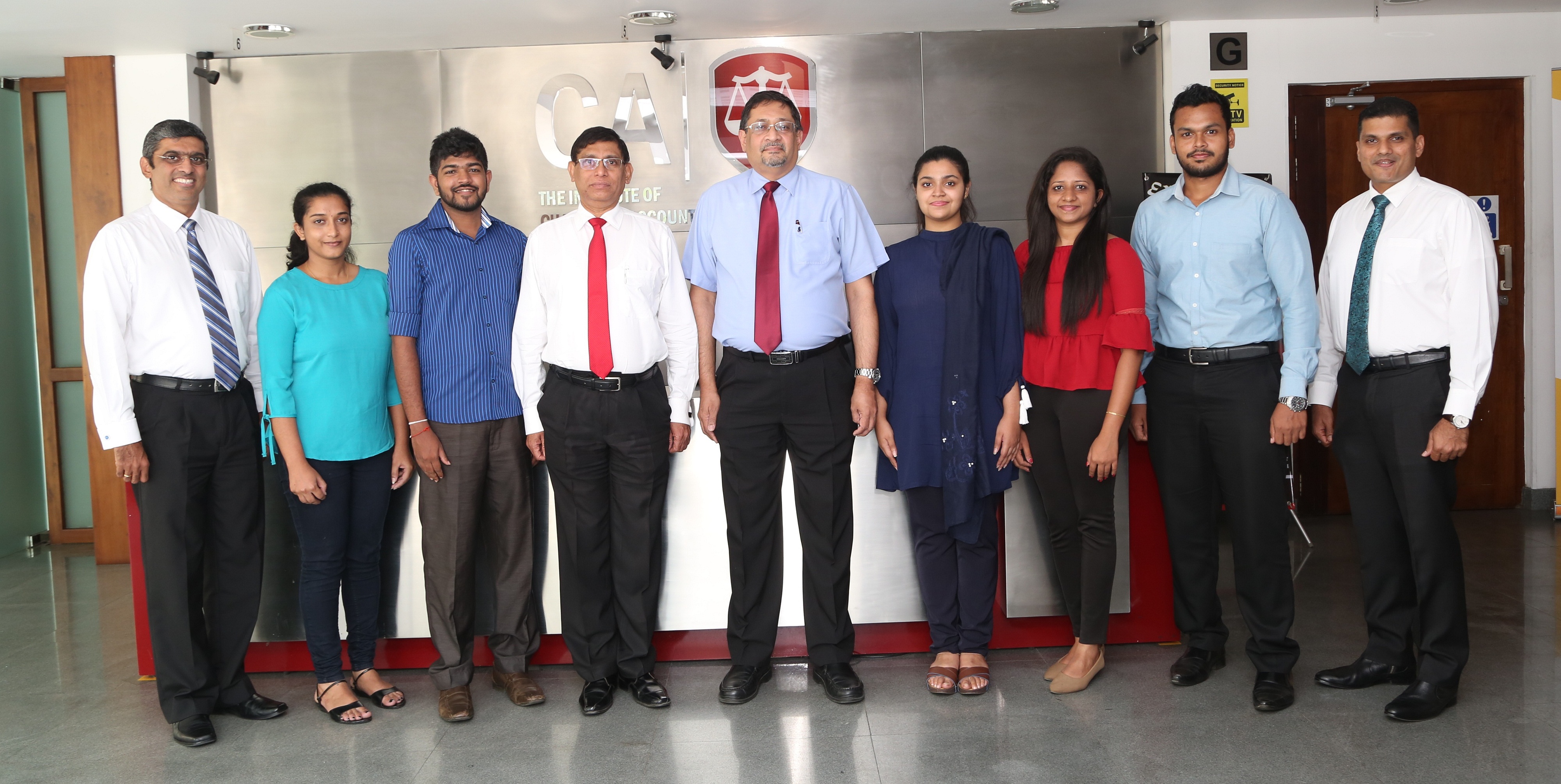 CA Sri Lanka KC5 Case Study exam young achievers with CA Sri Lanka officials.
From L to R: Council Member Mr. Dulitha Perera, Vijayaratnam Shiyomi, Udesh Lakmal, CA Sri Lanka President Mr. Jagath Perera, Vice President Mr. Manil Jayesinghe, Farhat Fayyaz, Ayesha Samarathunga, Ishark Rajan and Council Member Tishan Subasinghe.