President of the Institute of Chartered Accountants of Sri Lanka (CA Sri Lanka) Mr. Jagath Perera recently pledged to uphold the standards of the accounting profession, while also ensuring to enhance the excellence in the accounting education and the leadership of Chartered Accountants.
Delivering his inaugural address as the 24th President of the institute recently, in the presence of a distinguished gathering including Prime Minister Ranil Wickremesinghe, members of parliament, and business leaders, Mr. Perera said that his primary objective was also to enhance leadership and entrepreneurship skills among aspiring Chartered Accountants.
He also highlighted that to be a catalyst in Sri Lanka's journey it was also important to understand and accept that a profession cannot grow without innovation, while Chartered Accountants also cannot act in the public interest without maintaining integrity. "To be catalyst in Sri Lanka's journey, we must understand we cannot grow without innovation and we cannot act in the public interest without integrity," he said.
Mr. Perera also reiterated that the role of the accountant has changed drastically from the traditional activities such as accounting expertise, budgeting and forecasting and financial reporting towards areas such as risk management, critical thinking and cross-functional collaboration. "When you look from a technological front, we are experiencing the fourth industrial revolution with disruptive technology together with digitization, cloud computing, and artificial intelligence, among others. So, we invite all our members who are in Sri Lanka and around the globe to rally around the profession to walk towards transforming future chartered accountants to meet the demands of the digital world," Mr. Perera said.
Speaking further on how he hopes to enhance leadership and entrepreneurship skills within members and students of the institute, Mr. Perera said the Institute will conduct a series of programmes in the near future to help inculcate entrepreneurial skills among the aspiring Chartered Accountants. He also added that programmes will be conducted to develop the business acumen of CA students, to help them become more practical.
While emphasizing that professionals can make a tangible contribution towards ensuring the business and public sectors are appropriately capacitated to deal with the many challenges, Mr. Perera said that it is important for members of the accounting profession to respond positively to the call of the public sector and thereby be partners in the nation's building.
"In this context, we have much to contribute to root out corruption, design and monitoring of early warning systems so as to ensure improved service delivery, and institute controls that would minimise instances of wasteful expenditure," he said.
Mr. Perera said that the society expects Chartered Accountants to maintain and uphold public interest. Therefore, he proposed several strategic initiatives in ensuring that the members of the profession uphold these standards. "While Chartered Accountants are considered as the leaders in the accounting profession in Sri Lanka with power to audit, we also have management accountants and accounting technicians. CA Sri Lanka will invite the Institute of Certified Management Accountants of Sri Lanka (CMA) and the Association of Accounting Technicians (AAT) into the One Voice, One Profession initiative. This model will be developed in the near future with joint conferences, seminars and programmes to enhance professional education," he said.
Mr. Perera noted that auditors are facing new challenges in performing audits, and hence it is important to automate the processes, bring practice management tools and add with forensic in audit to enhance audit quality. He further said "In order to sustain the professional practice in Sri Lanka, we propose to bring the concept of limited liability partnerships (LLPs) and multi-disciplinary partnership laws in Sri Lanka for the profession to grow, because today we are working with the partnership act of 1890,".
He further emphasized the importance of revisiting the act of incorporation of the Institute in order to integrate many progressive changes to the profession.
He also disclosed that CA Sri Lanka is in the process of developing a new curriculum in order to uplift the profession on par with other professional accounting organizations. The Institute plans to commence the next curriculum in 2019, focusing on 2025 CAs.
Mr. Perera emphasized that it was important to develop the education system in line for the youth of today, who are considered 'digital natives' due to their excessive usage of technology from laptops to smart phones and tabs. "The digital native will wonder why we ask them to take down notes at a lecture hall when they can acquire the same knowledge much easily and comprehensively from the web. Any education provider who is not taking note of this technological revolution will surely be out of business," he warned.
Mr. Perera added that it was important to train all lecturers, and equip them to face the digital natives. Further, he noted that education providers have to take the challenge of preparing the digital natives to deal with the 'unknown future'.
He also said that the Institute hopes to shape the future Chartered Accountants as professional leaders with sound analytical power and judgmental skills, highest standards of integrity, independence and skepticism.
CAPTION: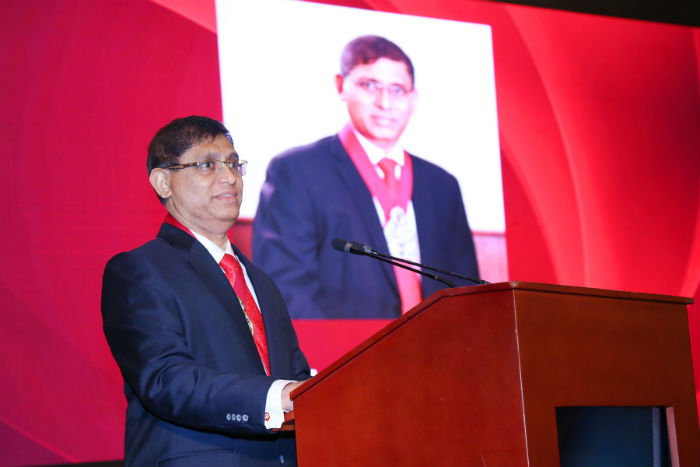 President of CA Sri Lanka Mr. Jagath Perera delivering his induction speech.