With cyber-crime attacks increasing across the world, the Institute of Chartered Accountants of Sri Lanka (CA Sri Lanka) continued to play a lead role in helping professionals, including Chartered Accountants to enhance their capabilities to fight cyber-crime through the highly acclaimed Diploma in Information Systems Security, Control & Audit (DISSCA).
The institute recently organised the Diploma awarding ceremony for the 23rd intake of the DISSCA programme.  The programme jointly conducted in collaboration with the Institute of Chartered Accountants of India (ICAI) has to date trained hundreds of professionals including managers, supervisors of audit firms, internal auditors, accountants and financial controllers to enhance their expertise in this unique area.
Speaking at the event, President of CA Sri Lanka Mr. Lasantha Wickremasinghe said Information Technology is an important pillar for all professionals, and at a juncture where competition and challenges are at its highest, the importance of enhancing the knowledge of a professional in vital areas such as IT needs not be underscored. "CA Sri Lanka has always been at the forefront in offering our members and students the best and most pertinent programmes for their professional development, and the launch of the DISSCA programme in 2004 with the Institute of Chartered Accountants of India was one such initiative in helping our stakeholders be proficient in multiple areas," he said.
Mr. Wickremasinghe noted that cyber-crime is a very serious concern today and as representatives of corporates, professionals must take extra precaution to ensure their organisations are safeguarded from cyber-attacks and other dangers. "The truth is there is a technological revolution and this is not going to stop. So we as professionals need to keep up and update our knowledge on these vital subjects," he added.
The DISSCA programme which has an annual intake covers pertinent areas in relation to enhancing IT security. The programme covers; Primer on Information Technology IS Infrastructure & Emerging Technologies, Information Systems Assurance Services, Governance & Management of Enterprise Information Technology, Risk Management and Compliance Reviews, Protection of Information Systems Infrastructure and Information Assets, Systems Development: Acquisition, Maintenance and Implementation, Software Audit and Mock Test, Business Continuity Management and Professional Opportunities in Information Technology.
Entry qualification for the programmer is; a degree from a university or a professional qualification such as CA, CIMA, ACCA, CMA, Banking and Finance, CIM or any other recognized qualification.
CAPTIONS: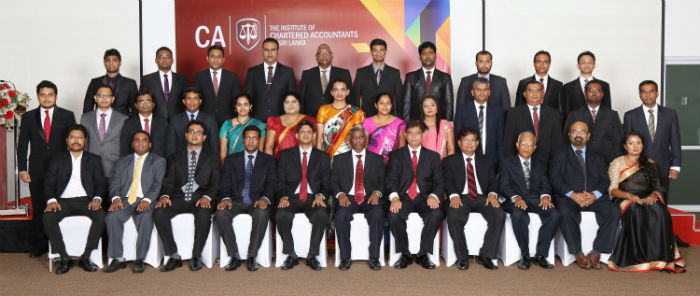 CA Sri Lanka President Mr. Lasantha Wickremasinghe, Vice President Mr. Jagath Perera, Chairman IT Faculty Mr. Ashane Jayasekara, CEO Mr. Aruna Alwis with the DISSCA Diploma holders.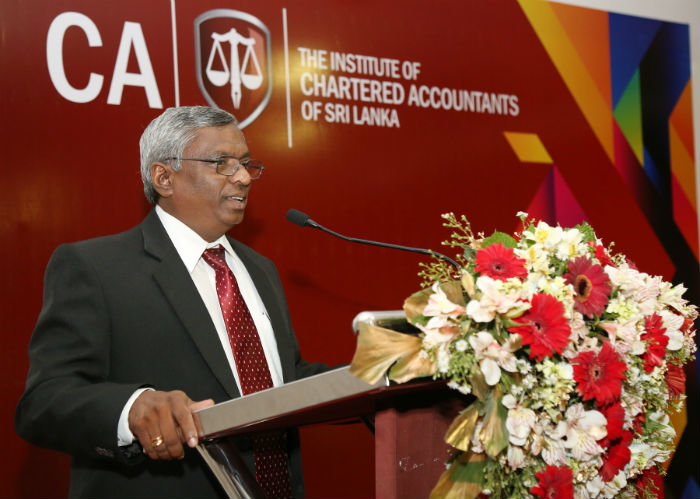 Mr. Lasantha Wickremasinghe addressing the gathering.