With companies becoming more demanding in today's complex and challenging world, Chartered Accountants have the option of adapting to various situations as well as positions to become all-rounders despite hailing from an accounting background, said Mr. Timothy Speldewinde, MAS Group Director and CEO/Managing Director of STR Holdings.
Addressing students of leading Colombo schools, Mr. Speldewinde, who is a fellow Member of the Institute of Chartered Accountants of Sri Lanka (CA Sri Lanka) and serves as a Member of the Board of MAS Holdings Limited advocated the importance of following their individual dreams instead of being pressured into choosing a profession they may not enjoy.
"In some professions you have to always continue within the same pillars, but in finance, accountants have the option of diversifying into other areas such as operations, production and planning. As an accountant, you can become an all-rounder," he told students during the 'Tea with the CA Champion' programme held at Stretchline (Pvt) Ltd., Malwana recently.
Mr. Speldewinde also noted that as a Chartered Accountant himself, he always had the edge which helped him progress in his professional journey. He emphasized the importance of looking at the bigger picture. "Think bigger, and think in a macro sense rather than looking at the nitty gritty," he said.
While promoting the importance of the 'work hard, play hard' mantra, Mr. Speldewinde said the students themselves should choose their professions because it is important that they enjoy what they do. "Do what you like, not what your parents or anyone else wants you to do, because you must enjoy what you do," he told students from D. S. Senanayake College, St. Thomas College, Royal College, Thurstan College, St. Joseph's College, Visakha Vidyalaya, Bishops College, Ladies College, Methodist College and Anula Vidyalaya.
'Tea with a CA Champion' is a benchmark initiative by CA Sri Lanka, organized for the benefit of students sitting for the 2017 GCE Advanced Level examination. The series of programmes which features high-profile members of the institute, provides students with a first-hand experience about insights in operational management by visiting popular manufacturing plants in the country.
Mr. Speldewinde took over the reins of Stretchline in 1996 and therein began a revolutionary expansion of its operations to multiple offshore facilities. His desire to offer innovative solutions to every single customer is innate. It is this visionary thinking that has transformed Stretchline into Sri Lanka's success story in supply chain management in the intimate and active wear sectors.
Captions: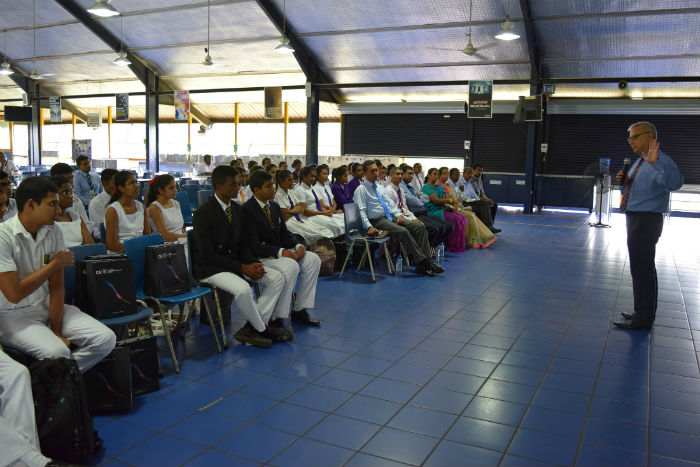 Mr. Timothy Speldewinde, MAS Group Director and CEO/Managing Director of STR Holdings addressing the students at the CA Sri Lanka Tea With a Champion Event.

Group Photo: Mr. Timothy Speldewinde, with CA Sri Lanka Council Members Mr. Heshana Kuruppu, Mr. Thivanka Jayasinghe, CEO Mr. Aruna Alwis and students representing Colombo schools as well as the staff of CA Sri Lanka and Stretchline (Pvt) Ltd.