Technical Events 2018
CPD - 2 hours
Date: Wednesday, 25 January 2017
Trainers: Ms. Melyse Peru and Mr. Ashim Kumar
The session focussed on introducing the concept of emotional intelligence and help participants understand the ways emotions impact thinking and decision making, with both theoretical and practical exercises.
CPD - 3 hours
Date: Wednesday, 29 March 2017
Keynote Speaker: Mr. Seamus Gillen
The objective was to understand Governance as a business-critical function and its evolution over the past twenty-five years, the principal drivers of value creation and value destruction affecting organisations, the importance of assurance in organisational life and the role of governance and internal audit to strengthen organisational resilience, the importance of ethics and role of culture, values and behaviours.
CPD - 3 hours
Date: Tuesday, 18 April 2017
Keynote Speaker: Mr. Michalis Georgiou Pekris
Guidance in understanding and calculating the significant impact from the obligatory adoption of IFRS 9 from January 2018. Coverage included all major aspects of IFRS 9. Numerous examples and illustrations are provided with major emphasis on the changes provided by IFRS 9.
CPD - 2 hours
Date: Wednesday, 17 May 2017
Chief Guest: His Excellency Dr. A. Saj. U. Mendis, Honourable Sri Lankan Ambassador to the Kingdom of Bahrain
Keynote Speaker: Dr. Jarmo Kotilaine, Chief Economist at the Bahrain Economic Development Board.
This session shed light on the current economic situation in the GCC and identified Accountants and Finance professionals as the leaders for change within organizations.
CPD - 3 hours
Date: Saturday, 21 October 2017
Keynote Speaker: Mr. Suresh R. I. Perera, Principal - Tax & Regulatory, KPMG, Sri Lanka.
The session focused on the Income tax implications on - Employees, Professionals in practice and self-employed persons, Concept of Residency, Compliance requirement and tax payer rights, Investing in Sri Lanka, Relaxation of Exchange Controls, Capital Gains and Exemptions and tax incentives.
SLAAB's 2017 AGM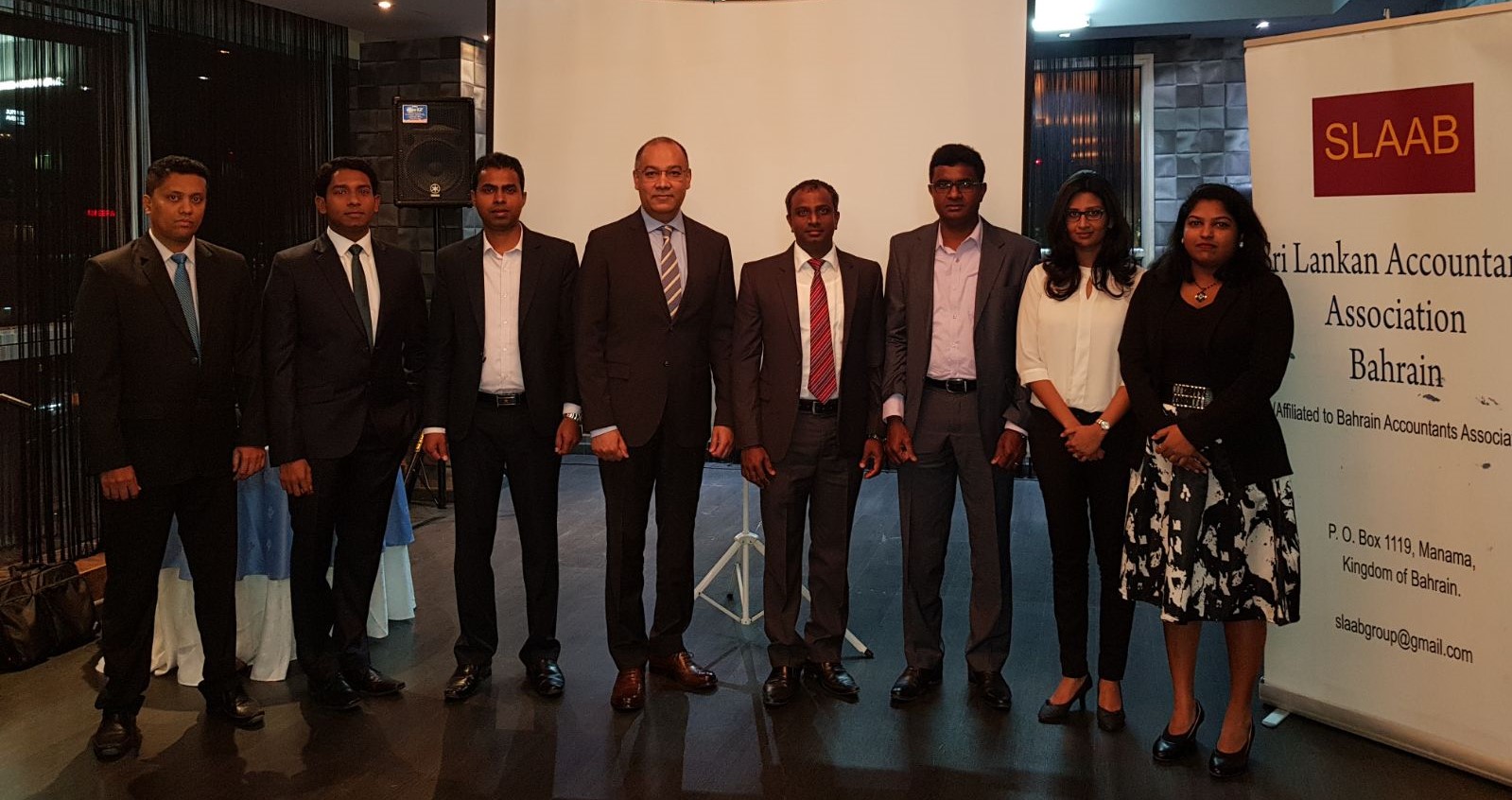 From left to right: Mr. Lasantha Chandimal (Internal Auditor), Mr. Aravinth Aruran - Vice President, Mr. Sampath Kumara - General Secretary, Mr. Deen Jayah - President, Mr. Indika Nishan, Mr. Priyantha Herath - Treasurer, Ms. Oshini Jayasinghe and Ms. Menudini Perera.