The conference organized by the Institute of Chartered Accountants of Sri Lanka (CA Sri Lanka) has built a reputation as a business summit and is one of the most sought after corporate events in the country that attracts over 1200 participants including high profile business leaders from Sri Lanka.

Mr. D. P. Kumarage, Chief Executive Officer/General Manager of People's Leasing & Finance PLC said that his company was pleased and delighted to be the Gold Sponsor for the 5th Consecutive year at the 36th National Conference of Chartered Accountants of Sri Lanka which will revolve around the theme 'Catalyst  2015: Collaborate to Compete.'

"In a highly competitive corporate environment, to compete with others in the peer groups, it is of paramount importance to stay tall and collaborate with strong players in the same level playing field. I am confident that in today's highly volatile business environment, this annual conference will pave the way for those who participate to seriously contemplate on their revival and in adding greater value for their stakeholders," Mr. Kumarage said.

Welcoming People's Leasing & Finance PLC on board once again, Mr. Arjuna Herath, President of CA Sri Lanka said that having the support of organisations such as People's Leasing & Finance PLC which has consistently and continuously supported the flagship event of the institute, was a testament to the event's high standing.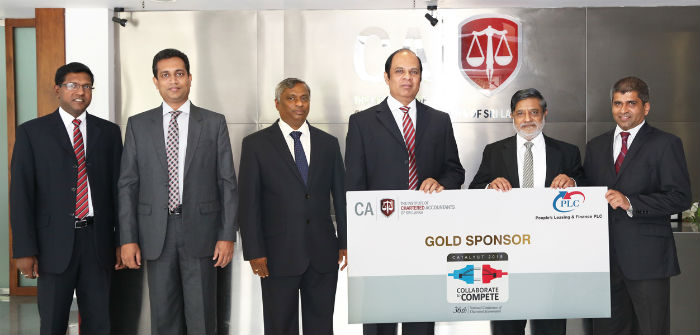 "The national conference is undoubtedly one of the most looked forward to events in the corporate calendar, and it is also an important platform that spurs insights on various topical matters both accounting and non-accounting, and is also seen as an event that spearheads change specially with change makers in attendance including chairmen, managing directors, CEOs, to CFOs," Mr. Herath added.

This year's conference which is expected to attract about 1500 participants will be held from 4th to 6th November 2015 at BMICH, Colombo.