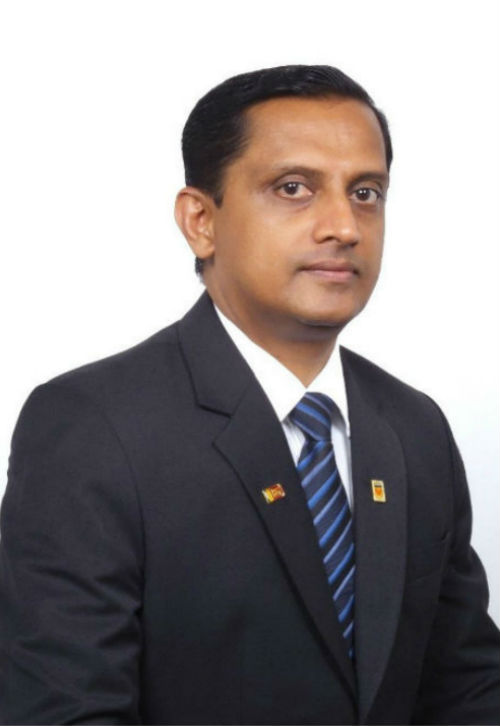 The University of Southern Queensland (USQ) alumnus Priyantha Punchihewa (Master of Business Administration, 2007) is currently the Chief Operating Officer of MIT Cargo (Pvt) Ltd, a fully owned subsidiary of the Hayleys PLC in Sri Lanka. He was keen to have given back to the institution to which he attributes his success, Priyantha joined the USQ Sri Lanka Alumni Chapter soon after graduating. During his tenure, he has served as a Committee Member, Vice President - Continuous Professional Development, General Secretary and the President for the Alumni Chapter here in Sri Lanka.
Mr Punchihewa received his award at the 2015 USQ Alumnus of the Year Award Breakfast Ceremony held in Toowoomba Australia on Tuesday 25th August. The USQ Alumnus of the Year Awards formally recognises outstanding USQ alumni for their achievements within their professional and personal lives and who have been an inspiration to fellow alumni, current students and the community.
The award criteria encompasses alumni in a broad spectrum of achievements including their professional careers, academic excellence, or individuals who have made a major contribution in community service or overcome significant personal adversity.
Priyantha Punchihewa started his career with a dream of becoming an engineer where he completed his high school education in Mathematics stream. However he obtained his Finance professional qualification (ACMA) and steadily progressed in his career.
Making a change in his existing career in finance was a turning point in his life and Priyantha succeeded by reading for an MBA from the University of Southern Queensland in 2005 through its affiliated local partner CA Sri Lanka. Priyantha was in one of the very first batches in Sri Lanka to graduate from the USQ.
His decision to commence the USQ MBA was because it offered flexibility and the work study content being solely developed and revised by USQ Australia. The overall programme offers students the choice of selecting minimum two subjects and a maximum four subject per semester. This selection offered him stability in managing his professional and personal lifestyle.
Priyantha Punchihewa goes on to state, "I would say that USQ offers a flexible and affordable study schedule, which is of great importance for individuals who are pursuing a competent career. Other strong persuasions were the strong support and interest shown by the local partner CA and the interest from colleagues to follow the programme.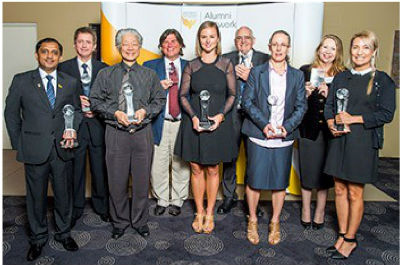 2015 USQ Alumnus of the Year Winners & Finalists: (L to R) Priyantha Punchihewa, Andy Coles,Louis Liu, Bradley Daly, Caitlyn Gribbin, Tony McDonald, Amanda Able, Lorraine Graham and Maree Toombs.
Mr. Priyantha Punchihewa further explained that the USQ MBA was a stepping stone in his life. Adding success to his future career and making him proud to be an active alumni member. The university recognized his efforts in different levels of the alumni and was awarded the Chapter Volunteer Alumnus of the year.
Priyantha Punchihewa's advice to MBA students would be to "be committed and always strike a balance in your personal and professional life. The knowledge that you gain should not be limited to a qualification but sharing the knowledge with fellow staff, friends and colleagues to assist in their improvement"

About the University of Southern Queensland and education partner here in Sri Lanka

The University of Southern Queensland (USQ) is a young, dynamic university dedicated to providing quality programs and degrees in a flexible and supportive environment. In less than 50 years, USQ has become a prominent teaching and research institution providing education worldwide from three regional locations – Toowoomba, Springfield and Ipswich. The Toowoomba region founded USQ out of their passion to provide the best possible educational opportunities for local students. The vision and determination of our local communities has seen USQ grow and e
xpand with a reputation as one of Australia's leading providers of on-campus and online programs in Australia and overseas.

USQ's MBA program is offered by the institute of Chartered Accounts of Sri Lanka Business School. The school has produced MBA graduates in the business and finance industry. Classes are limited to a maximum of 30 students to ensure quality and standard by the university. Students have the options of specializing in Project Management, Finance, Marketing and strategy and Human Resource Management. USQ also provides other postgraduate programs such as Masters in Project Management, Accounting and Commerce, Marketing etc. Please visit the USQ website to find more information http://www.usq.edu.au/study/degrees

For more information about USQ's postgraduate course, please feel free to contact the Institute of Chartered Accounts of Sri Lanka Business School by phone on 011 2352047 or via email This e-mail address is being protected from spambots. You need JavaScript enabled to view it