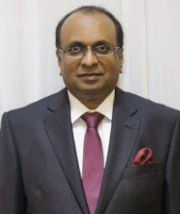 Mr Ajith E Tudawe functions as the Executive Chairman of Ceylon Hospitals PLC (Durdans Healthcare Group) and as Group Director of Tudawe Brothers Ltd., including all its subsidiaries and associate companies. In his 30-year career, he has combined his accounting & financial knowledge with his entrepreneurial skills, which prompted him to initiate and implement several strategic initiatives at Durdans Hospital since 1994. By adopting the M&A strategy at the very outset of the restructuring process, he was able to leverage on this initiative to take the organisation strategically forward to a differentiated platform.His stewardship enabled Durdans Hospital to grow into the foremost healthcare provider in the private sector in Sri Lanka. He deserves credit for transforming Durdans Hospital into a Centre of Excellence. In this article, Ajith Tudawe talks about why CA Sri Lanka's 2015 curriculum will ensure in creating a cutting edge professional  qualification.
The 2015 new curriculum of CA Sri Lanka is well-structured, more so, because before finalizing it, the accounting body elicited feedback from all stakeholders, namely, members, employers, tuition providers, and so on, to gauge what they look for in accountants when they employ them. As the national accounting institute in the country, CA Sri Lanka took it upon itself to undertake an extensive year-long survey to ensure it had received feedback from all stakeholders. Subsequently, the body incorporated constructive suggestions to strengthen its curriculum to better meet the evolving needs of the workplace and the demands of the accounting profession. I believe this has also helped the Institute to better position itself for a medium to long term period as a professional educational institution with a modern outlook.
The curriculum of CA Sri Lanka has been designed in response to the globalization of business activities and professional education in a changing world. In order to achieve this objective and maintain this standard, the curriculum is updated and revised every five years. The new curriculum consists of three pillars: Knowledge, Skills and Personal. It provides integrated components to an in-depth understanding across accounting, finance and business. The new curriculum helps to build the technical knowledge, professional skills and practical exposure needed to become 21st Century CA Sri Lanka Chartered Accountants.
This structure enables the student to progressively reach higher levels of achievement, equipping him/her with a distinct set of functional and people skills and employment prospects, throughout. Thus, it offers two optional exit routes based on one's choice of career path, before reaching the top as a fully-fledged Chartered Accountant.
Apart from technical knowledge, communication skills also form a key component of skills that a professional accountant must possess. Towards this end, the Institute has incorporated communication skills in its new programme. Since professional accountants operate in the business and corporate world, they need to be proficient in spoken and written English. Today, they are not back-room technically competent persons alone, but are seen at the forefront of companies as corporate leaders, interacting at the highest executive levels, which necessitates that they are at ease with communication skills.
The most positive factor about the new curriculum is that it seeks to produce not merely technically sound accountants, but also good managers with a 360-degree view of business; comprehensive finance professionals who can run a business like an entrepreneur and take it to the next level. Although we will have to wait until the first set of passed finalists are released to see how these new curriculum changes have benefitted them, I am confident that the curriculum will prepare the CA Sri Lanka students for a more transformed and evolved role. The Institute of Chartered Accountants in England and Wales, the apex body in Commonwealth countries, has also moderated on the syllabus, which gives it a more international appeal.
Accountancy today is a multi-faceted qualification, be it specializing in accounting, auditing & assurance, taxation, management accounting, financial management, forensic accounting, corporate restructuring, or performing many other roles. During their training, trainee accountants should be taught how to run organizations, how to shift laterally across industries, how to apply technical knowledge to add value to the business etc. For this, the curriculum should reflect a high degree of attention to case studies, role-play and business strategizing, so that they have an armoury of skills and tools to succeed in the workplace. The Practical Training scheme was revamped along with the new curriculum, and new training requirements have been developed in line with the International Accounting Standards for developing professional competencies in aspiring professional accountants. They must think "out of the box" in order to achieve greater economic success and continue the economic entity in a sustainable manner.
In my own career, in addition to being an intrapreneur, my accounting background and my knowledge of the world of finance has helped me in the growth and transformation of the business with which I am closely associated. Unfortunately, accounting is seen by some as a profession with limited career options, but in my view, a Chartered Accountant can choose a wide variety of sectors to work in - and if he or she acquires additional qualifications in business management, he will become a highly sought-after candidate. CA Sri Lanka offers a leading business and finance qualification, and is recognized and valued in small, medium and large organizations.  I believe that to sustain the high level of its curriculum, CA Sri Lanka should remain focused on its core strength of teaching professional accounting, by establishing strategic partnerships with renowned Business Schools in the tertiary educational institutions such as Universities in addition to maintaining a relevant and up to date curriculum in response to global business needs.
The new curriculum also consists of a module of ethical management, which is becoming imperative in the climate we live in and will teach students the importance of applying the highest ethics in their jobs. It is also mandatory for members to renew and refresh some of these aspects to retain membership of the institute, which creates a sense of shared purpose and a love of lifelong learning.