Visiting President of the International Federation of Accountants (IFAC), Ms. Olivia Kirtley, recently declared that as Sri Lanka becomes a more internationally integrated economy, the nation's commitment to good governance is going to be essential to ensure Sri Lanka's long term success.
Speaking at the CEO Forum organized by the Institute of Chartered Accountants of Sri Lanka, Ms. Kirtley noted that Sri Lanka is one of the fastest growing markets in the South Asian region, and in many aspects the economic outlook for Sri Lanka is very positive. "Yet challenges remain, and there is always more to do," she said.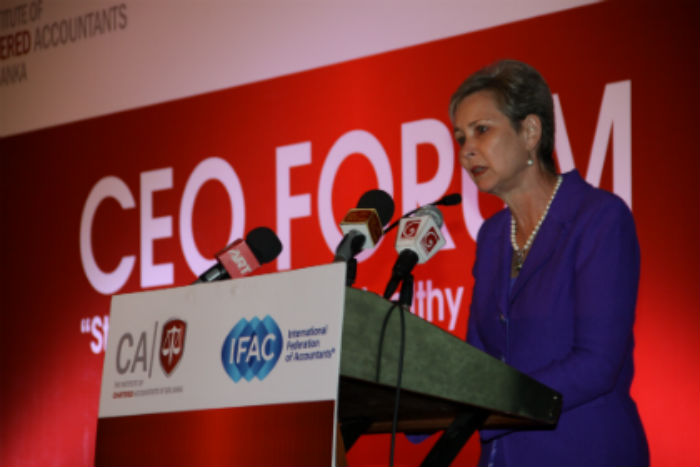 Delivering the keynote speech on "Strong Governance, Healthy Business," Ms. Kirtley noted that taking Sri Lanka and its businesses to the next level is going to require a strong, decisive, and embedded governance culture.

"All organizations–large and small, public and private—must care about it," she maintained.

Ms. Kirtley, while highlighting that the accountancy profession has long been an active advocate for good governance, outlined several important areas for stronger and more effective governance, among which she noted that executives as well as boards have critical roles to play in corporate governance reform.

"I'll start with the competency test.  First and foremost, Boards and their committees must conduct a challenging assessment of their adequacy and qualifications to protect and represent investors and stakeholders. Boards must be willing to honestly assess themselves - as a group and each director individually," she said.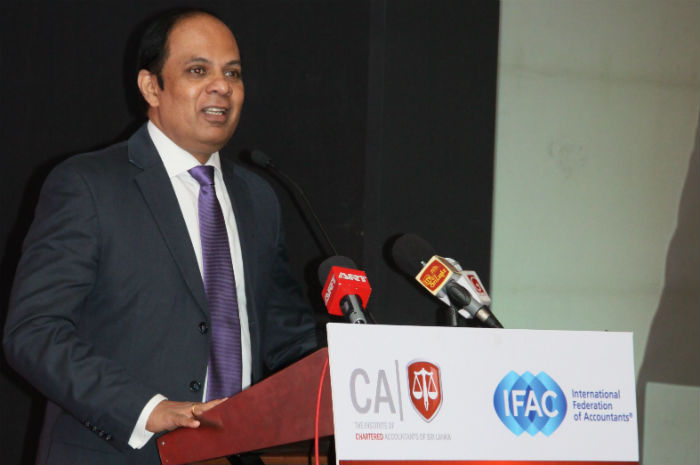 The IFAC President also noted that governance within the management structure is also critical. "As executives, we must challenge ourselves and our organizations to gain a deeper understanding of complex business models and issues.  As with effective Board governance, it begins with continually examining whether the right people with the right skills are working in the critical risk and control areas:  within operations (first line of defense), accounting, finance, risk management (second lines of defense) and internal audit (third line of defense)," she highlighted.
Outlining her third point, which was professional accountants are uniquely qualified and stand ready to help, Ms. Kirtley noted that she was convinced from many years serving on boards that the accounting profession is uniquely positioned to help companies address those gaps.

"Information is our business.  Industry and financial expertise are our core competencies.  In many countries, audit committees and our profession initially led the way for improved corporate governance. The accountancy profession stands ready to help organizations understand the essential elements, structures and processes for strong corporate governance.

Not only do professional accountants have the training and competencies that can give valuable input to this process, but it is also in our best interest to play a significant leadership role," she said.

Ms. Kirtley also noted that effective governance leads to transparency and high quality information that enables professional accountants to do a better job. "It is essential that our profession is involved at every level of corporate governance," she added.

Outlining three specific areas, Ms. Kirtley addressing the audience at the forum, which comprised of Chief Executive Officers of leading organisations in the country, said corporate leaders can play a greater leadership role in strengthening corporate governance in Sri Lanka by advocating, evaluating and participating.
| | |
| --- | --- |
| | |
IFAC, is the world apex body of the accounting profession consisting of more than 175 members bodies in 130 countries that represent over 2.8 million accountants. Ms. Kirtley was in Sri Lanka on a four day official visit.