The Institute of Chartered Accountants of Sri Lanka (CA Sri Lanka), is now accepting entries for the prestigious Annual Report Awards Competition, which is also one of the most sought after corporate level competitions in the country that promotes transparency, accountability and good governance.

The competition which is celebrating its 51st anniversary will revolve around the theme 'Clarity Redefined' and is open to any organisation ranging from conglomerates, to NGOs, to SMEs that produces an annual report.

This year's competition based on its theme 'Clarity Redefined' aims to encourage organisations and the preparers of the annual reports to produce a clearer, cohesive and customized report to reflect the operations of each individual company.
"Sri Lanka converged with the International Financial Reporting Standards in 2012 and after applying the accounting standards for two financial years, we now expect the annual reports to start displaying maturity in communicating to the market the company specific disclosures," President of CA Sri Lanka, Mr. Arjuna Herath told a news conference at the Galle Face Hotel, Colombo on 11th August 2015.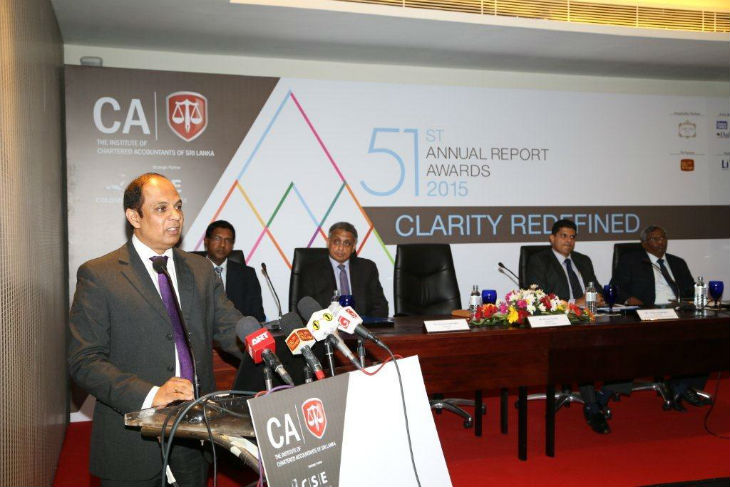 Mr. Herath further noted that as a professional body as well as the legislated promulgator of Accounting and Auditing Standards in the country, CA Sri Lanka has taken every step necessary over the years to enhance the financial landscape. "Today, we can stake claim to a world class accounting framework which is in line with international standards, and there is no doubt that competitions such as the Annual Report Awards have helped enhance this standing further," he said.

He also noted that in recent years, the competition has increased in stature and significance, and the growing number of participants each year for this prestigious competition is testament to the competition's significance and standing. "Last year, which was our 50th anniversary, we recorded the highest number of entries, which means more and more organisations understand the importance of transparency, accountability and good governance, and that is a very encouraging sign," Mr. Herath said.
He expressed hope to see a much larger participation at this year's 51st Annual Report Awards competition, on grounds that this was not just another competition but is considered as an important stepping stone for corporates to enhance their standing in the corporate world, which ultimately reflects on the economic growth and development of Sri Lanka.

The main objectives of the competition is to encourage effective communication to stakeholders through publication of informative annual reports; promote effective presentation of financial and non- financial information; and to comply with legislative requirements and generally accepted accounting practices.
Vice President of CA Sri Lanka, Mr. Lasantha Wickremasinghe said that 51 years is a long period of time and CA Sri Lanka takes great pride for its consistency as well as for steadfastly encouraging corporates to understand the importance of transparency, accountability and good governance for five long decades.
| | |
| --- | --- |
| | |

Chairman of the Annual Report Awards Committee 2015, Mr. Tishan Subasinghe noted that in the context of globalization and the resulting dynamism in changes to best practices in financial reporting with relevant disclosures, there is no doubt that maintaining the highest standards of reporting is a challenge. "However, a competent resource pool within the accounting fraternity in our country has taken up this challenge to continuously improve the annual reports that is produced in Sri Lanka," he said.  

Mr. Subasinghe noted that the judging panel of the Annual Report Awards Competition will continue to keep updating the checklists regularly to keep pace with the changes to the accounting standards and other relevant pronouncements, while also placing increased emphasis on disclosures pertaining to related party transactions.

Chief Executive Officer of CA Sri Lanka, Mr. Aruna Alwis said that since the competition's launch in 1964, it has been a pioneer in helping the corporate sector boosts its transparency and accountability elements in financial reporting. "As a professional body not many could boast of an over 50 year old achievement, but CA Sri Lanka takes great pride in being just a handful of such organisations which has driven a distinctive event of such importance for 51 long years," he said.

Mr. Alwis also noted that in the current context, the Annual Report Awards was a most warranted competition as it strongly advocates transparency, accountability and good governance among Sri Lanka's diversified business sector.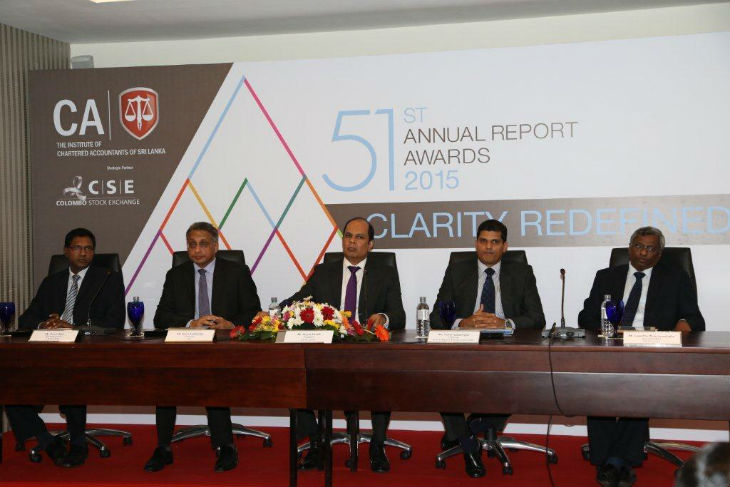 Entries for the 51st Annual Repot Awards competition will close on 10th September 2015.