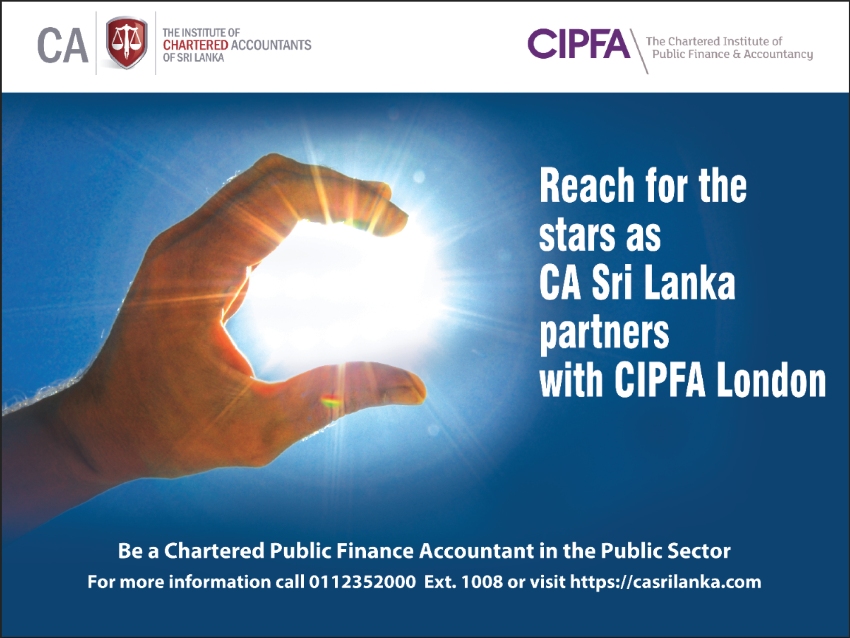 Click here to apply for direct membership to CIPFA
Frequently Asked Questions
for CA Sri Lanka members and APFASL members in the public sector intending to apply for Chartered Public Finance Accountant (CPFA) qualification
Under the Memorandum of Understanding signed by CA Sri Lanka and the
Chartered Public Finance & Accountancy (CIPFA) London
The MOU provides for the advancement of high quality public financial management in Sri Lanka through:
Professional development enabling for members of CA Sri Lanka and members of APFASL to obtain the Chartered Public Finance Accountant (CPFA) membership under following options:


Members of CA Sri Lanka


CA Sri Lanka members with 5 or more years Public Sector experience at a senior level can obtain full membership of CIPFA;
Other CA Sri Lanka members who do not fallinto above category, can obtain Affiliate membership of CIPFA. For them, CIPFA will develop an advanced Diploma in Public Financial Management consisting two modules ( i.e., Governance, Public Policy & Ethics and Public Sector Financial Reporting) from CIPFA's International Public Financial Management (IPFM)  program to support  fast tracking to full membership of CIPFA; and

Members of APFASL, who have passed the entrance examinations of respective services and have first degrees in accountancy can obtain Affiliate membership of CIPFA.

Development of the Accountancy profession in public sector to strengthen the public financial management in Sri Lanka by providing relevant training facilities, products and / or services designed to help build services to CA Sri Lanka members and APFASL members based on the joint identification of gaps and opportunities.
MOU is effective from 11th February 2015 ( i.e., the date of signing the MOU by the both parties.
First Year
Full membership
- £ 36 = LKR 7,474 ( £ - 1 = LKR 202)
Affiliate membership
- £ 30 = LKR 6,060
Thereafter
Full membership
- £ 75 = LKR 15,150 ( £ - 1 = LKR 202)
Affiliate membership
- £ 60 = LKR 12,120
The renewal fee for membership after the end of first year will revert back to the full fee.
Step – 1: Complete the online application form available at www.cipfa.org/casrilanka

Step – 2: Attach your up to date CV

Step – 3: Email the completed form and CV to This e-mail address is being protected from spambots. You need JavaScript enabled to view it

Step – 4: Processing your application
There is no requirement to undertake any additional training.
No specific time lag. But students are need to note that exam registration deadlines for 2 exam sittings per year are, end of March for June exams and end of September for December exams.
There is no restriction on the number of attempts on these papers.
This will be discussed with Education and Training division of CIPFA and decided.
K L Perera.
Consultant - Public sector,
The Institute of Chartered Accountants of Sri Lanka.
Contact No: +94 11 235 2000 Ext. 1008
Email: This e-mail address is being protected from spambots. You need JavaScript enabled to view it
Adrian Pulham
Education & Membership Director
Telephone: +44 (0) 20 7543 5676
Email: This e-mail address is being protected from spambots. You need JavaScript enabled to view it
Yes. To the extent permitted by UK and Sri Lankan laws, a member of CA Sri Lanka that gains CIPFA membership, in terms of this MOU must retain in his or her CA Sri Lanka membership.