The top three students at the 2013 Advanced Level Examination who recently kicked off their professional journey to be chartered accountants at the Institute of Chartered Accountants of Sri Lanka (CA Sri Lanka) has endorsed the institute's newly launched curriculum which they termed as a 'versatile and well-structured programme' which will give professionals the required edge to successfully steer businesses across the world.
The top three students who registered with the CA Sri Lanka globally recognized chartered accountancy programme are Ms. Erandi Kanchana, Island first from the Commerce Stream, Ms. Hirunika Kodituwakku Island second from the Commerce Stream and Sachin Kamalanjana, Island third from the Commerce Stream.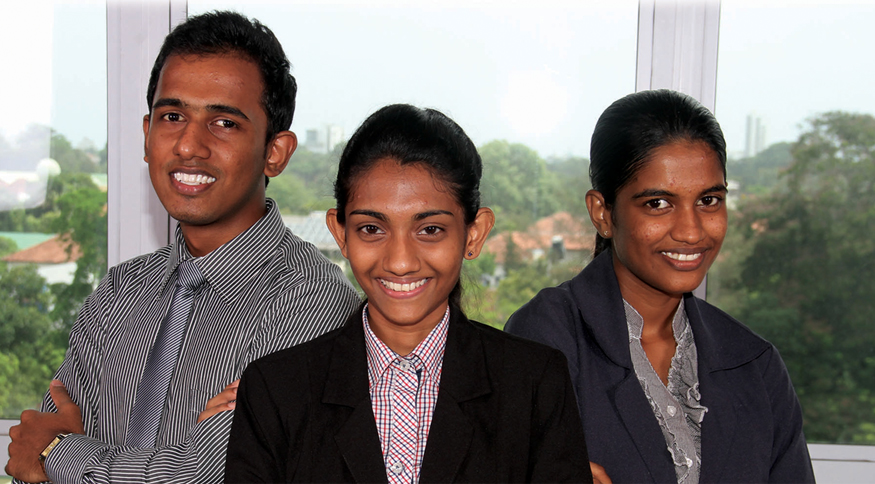 Sharing her thoughts on the newly launched curriculum of CA Sri Lanka, Ms. Kanchana said that the new curriculum has been structured in a manner which instills students with the important aspects of technical competence as well as practical experience. "This will help us progress to be a versatile breed of chartered accountants, who will give leadership to the corporate world through the unique financial knowledge we acquire during our study programme."
Island's second, Ms. Kodituwakku said that ever since she passed her Ordinary Level exams, it has been her dream to become a chartered accountant. "As a student who had completed the CAB I programme, I was educated about the new curriculum launched by CA Sri Lanka. I believe the new curriculum paves the way for students to enjoy enhanced professional success as it incorporates some very vital elements including technical and other important skills which is required in a modern curriculum to help students become successful professionals tomorrow," she said.
Ms. Kodituwakku also believes that with the new curriculum there will be a renewed demand for chartered accountants both in Sri Lanka and abroad.
Sachin Kamalanjana, the island's third at the GCE AL from the commerce stream said that it was always his dream to be a globally sought after chartered accountant, because they are not only respected by society but also enjoys excellent opportunities in the corporate world.
"I am certain that through the course of study at CA Sri Lanka, I will received the required knowledge both technically as well as practically which will help me enjoy enhanced professional success as I embark on a journey to be a globally sought after professional," he added.
The new CA Sri Lanka syllabus which will come into effect from next year is a visionary leap aimed at revolutionizing the professional accountancy education in this country. The new curriculum will produce chartered accountants for 2020 who will partner businesses through financial leadership. The syllabus will produce highly skilled and competent chartered accountants who are multi-faceted professionals with the ability to create value, enable value, preserve value and report value.
The new curriculum focus on boosting the skill competencies of a chartered accountant by providing them with vital organizational skills integrated into strategic decision making in a consistent manner, apart from infusing the aspiring chartered accountant with characterized values inspiring excellence in performance while maintaining social responsibility.
The new curriculum has been developed on a pillar concept, divided into three levels of executive, business and corporate levels.
The new curriculum meets with all the required international educational standards for professional accountants issued by the International Federation of Accountants and is also certified as meeting with all the international norms by the Institute of Chartered Accountants of England and Wales.