The President and Vice President of the South Asian Federation of Accountants (SAFA), recently met Maldivian President Abdulla Yameen Abdul Gayoom at the President's Office in Male' where matters pertaining to the development of the accountancy profession in Maldives and in the region was discussed at length. SAFA is an apex body of SAARC and is the regional organisation consisting of the nine Professional Accountancy Organisations from India, Pakistan, Bangladesh, Sri Lanka, and Nepal.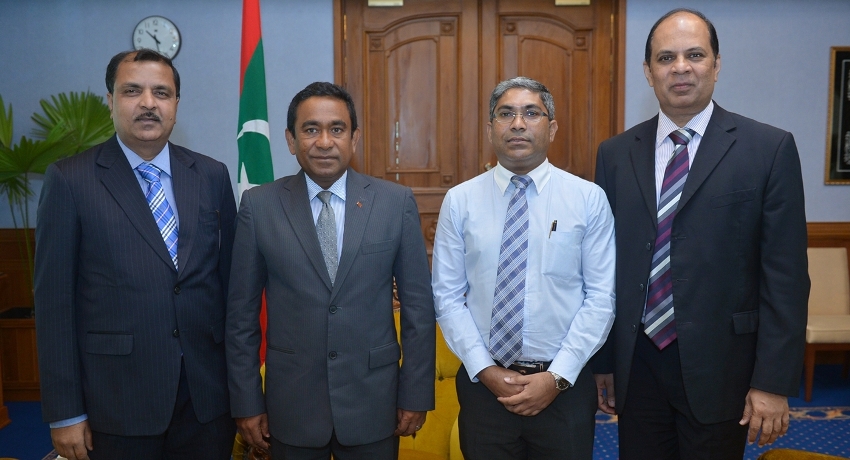 As per the statement released by the President's office of Maldives, the delegation comprised of SAFA President Subodh Kumar Agarwal and Vice President Arjuna Herath, who is also the President of the Institute of Chartered Accountants of Sri Lanka (CA Sri Lanka). Auditor General of Maldives Niyaz Ibrahim was also present at the meeting among several Ministers of Maldivian Government.
During the meeting, SAFA officials assured the Maldivian President, it's willingness to work closely with the Maldivian Auditor General's Office and other relevant Government authorities to build the accountancy profession in Maldives.
President Yameen expressed his gratitude to SAFA for their continued assistance to the accountancy profession in the Maldives, and assured SAFA of his Government's commitment to work alongside local and international partners to foster the development of local accountants.
He also intimated that the Maldivian Government would welcome the establishment of an accountancy institute in the Maldives in order to ensure Accountants in Maldives comply with international standards.