The President of the International Federation of Accountants (IFAC), Warren Allen, who is on a four day visit to Sri Lanka declared that Chartered Accountants qualified from the Institute of Chartered Accountants of Sri Lanka (CA Sri Lanka) are sought after by not only Sri Lankan organisations but also from employers from across the world.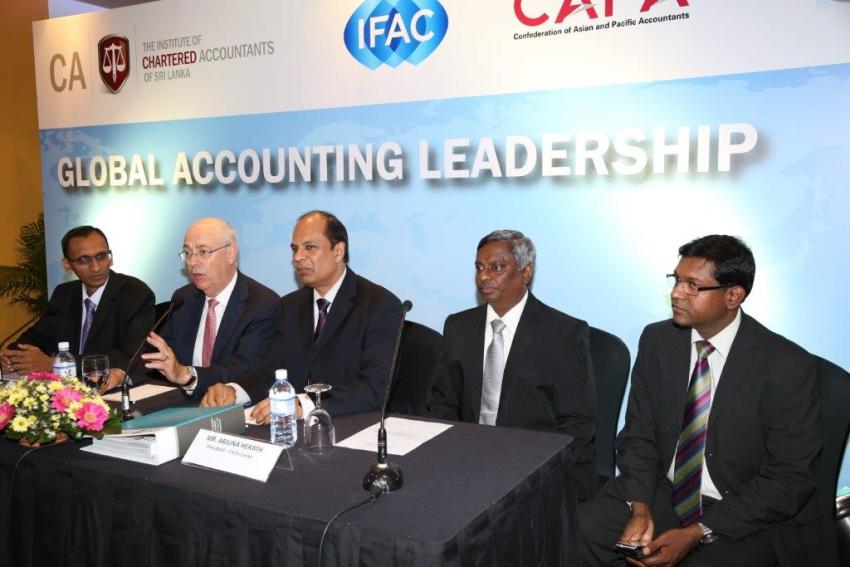 Addressing a press conference in Colombo recently, Allen, who heads the global accounting body which represents over 2.5 million accountants globally, praised the professional standards of the Sri Lanka qualified chartered accountants and intimated that chartered accountants was one of Sri Lanka's greatest exports to the world.
"CA Sri Lanka is not only training accountants for the Sri Lankan market but also for the global market and they have been very successful in producing chartered accountants who are highly regarded and are sought after by employers from many countries from across the globe," Allen said. He said that CA Sri Lanka members were currently working in over 30 countries and the demand for them was consistently increasing.
He noted that the 54 year old institute has been a very valued member of IFAC and also praised CA Sri Lanka for the commitment and dedication it has portrayed over the years to maintain the highest of international standards in carrying out its professional duties and activities.
He congratulated both the institute and Sri Lanka for the work done in implementing the International Financial Reporting Standards, international standards in auditing, and for complying with the ethics code and the education standards, which he noted were relevant to have a strong and active profession.
Warren who had returned to Sri Lanka after over a decade also admired the achievements both at a professional scale and national level.
"What you have achieved as a country over last ten years is truly remarkable and that would not have been achieved without an active, solid and ethical accounting profession. I congratulate you for these achievements, and I am thrilled that the accounting profession has played a key role in this development and this is something I do not see consistently around the globe, so it is very heartening as president of IFAC to come to a country and see such developments," he added.
President of CA Sri Lanka, Arjuna Herath emphasized that CA Sri Lanka has been very involved at an international level, with a significant influence, apart from CA Sri Lanka members heading regional accounting leadership bodies in the Asia Pacific region.
"CA Sri Lanka significantly contributes to the development and progress of the country, and CA Sri Lanka members are highly involved in both the public and private sectors of the country," he noted.
Citing reasons for his claim, Herath noted that chartered accountants are today Directors, CEOs, and CFOs, while a significant number of CA Sri Lanka members are on boards of listed companies in Sri Lanka while in the public sector, chartered accountants include the auditor general, governor of Central Bank, secretaries to the ministries, and commissioners. "Our profession has made quite a contribution to the development of this country and we hope to continue this contribution," he added.
Mr. Herath also disclosed that in the near future, CA Sri Lanka will introduce a revolutionary change to its curriculum to suit the changing environments, which will produce farsighted chartered accountants for the year 2020, adding significant value to the corporate community and public sector.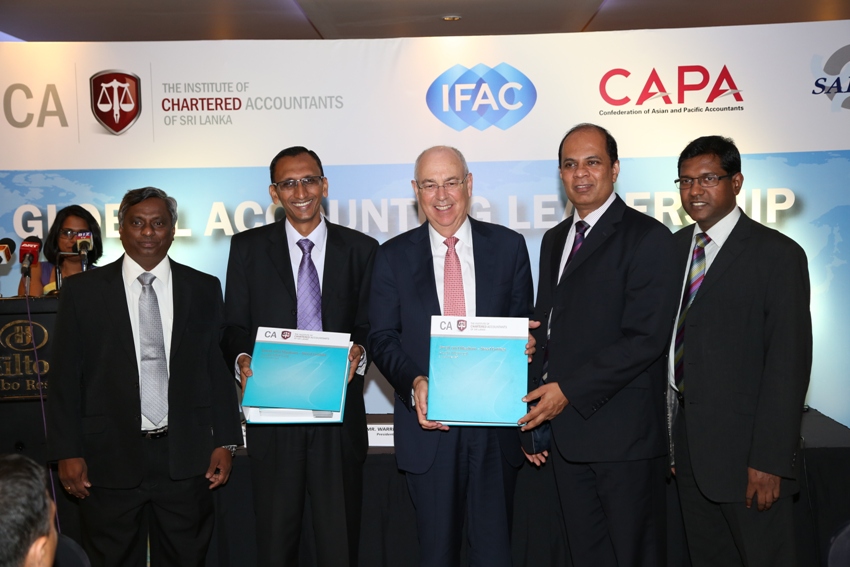 IFAC is the world's apex body of the accounting profession, representing over 2.5 million accountants from across 130 countries. CA Sri Lanka's Past President Sujeewa Mudalige heads the Confederation of Asian and Pacific Accountants (CAPA), which is the regional organisation representing national accountancy organisations across the Asia-Pacific region, while incumbent President of CA Sri Lanka, ArjuneHerath serves as the Vice President of the South Asian Federation of Accountants (SAFA), forum of professional accountancy bodies in the SAARC (South Asian Association for Regional Cooperation) region.