The number one leader in accounting education in the country, the Institute of Chartered Accountants of Sri Lanka (CA Sri Lanka) recently rewarded the best and the brightest of the 2013 Advanced Level Commerce Stream students with full scholarships to pursue a rewarding career in chartered accounting.
At a function held recently at the Rathnawali Balika Vidyalaya, Gampaha under the patronage of the Minister of Education, Hon. Bandula Gunawardena, CA Sri Lanka President Mr. Arjuna Herath awarded scholarships to three students from the school, including Miss Erandi Kanchana, the island's first and best student in the2013 Advanced Level commerce stream.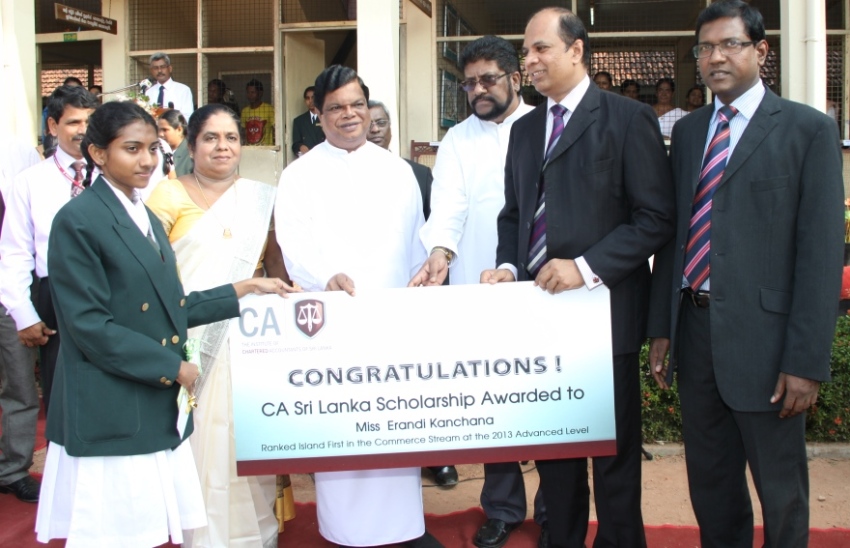 He also awarded CA Sri Lanka scholarships to Miss. Lasanthi Chandramali and Miss Wasana Sandamali, who were adjudged the fifth and ninth respectively at the 2013 Advanced Level examination (commerce stream), giving them the opportunity to kick start a career in chartered accounting.
CA Sri Lanka Vice President, Mr Lasantha Wickremasinghe, and Chief executive Officer Mr. Aruna Alwis, Secretary were also present at the event.
CA Sri Lanka is one of the largest tertiary education providers in the country with over 44,000 students following the institute's globally recognized chartered accountancy professional programme.
In 2013, CA Sri Lanka recorded the highest number of student registrations numbering to over 12,000 in its 54 year long history.
Apart from its flagship programme in chartered accountancy, CA Sri Lanka also offers a degree in applied accounting which has been approved by the University Grants Commission.